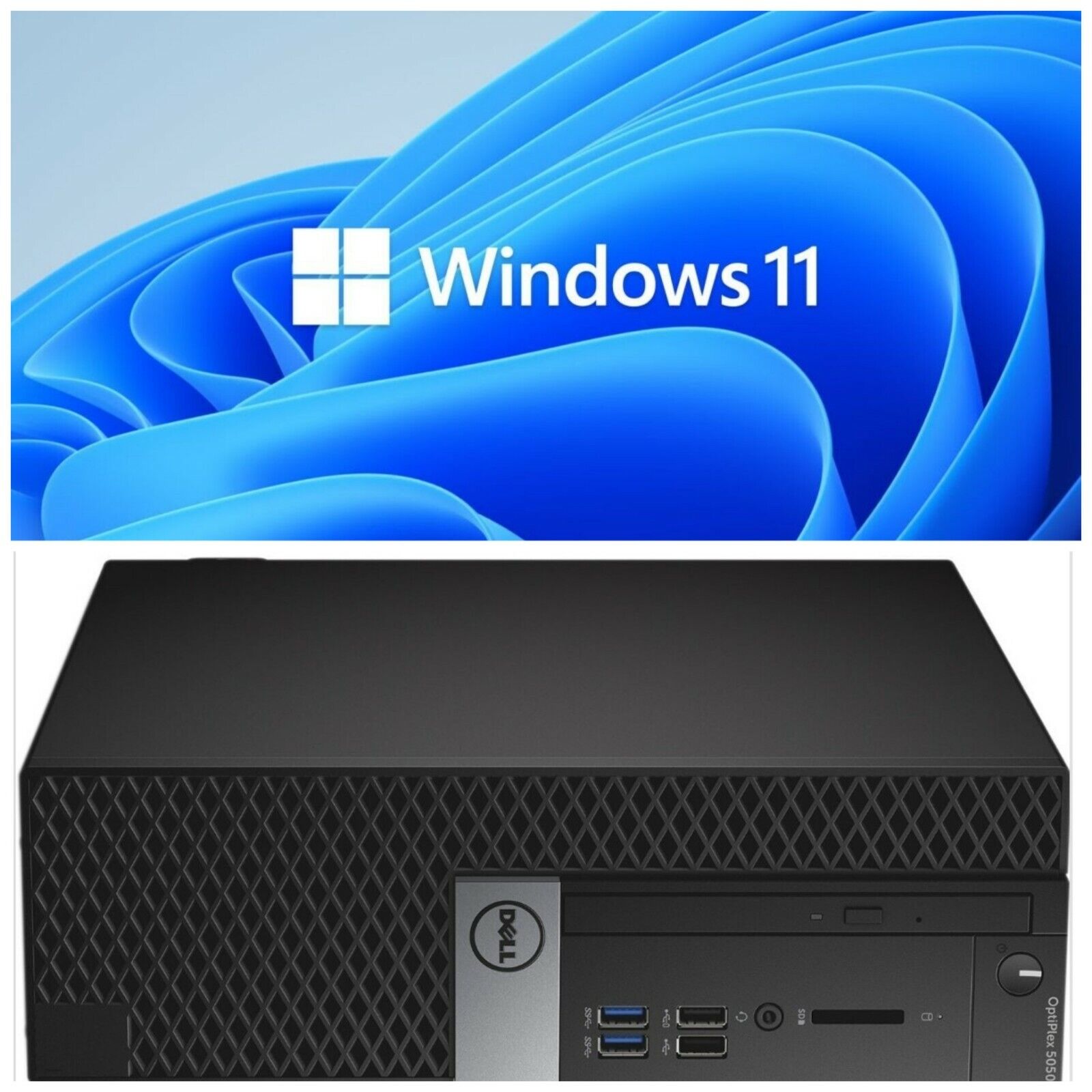 Price: 16249 USD
💥 Win 11 P FAST Computer Dell Optiplex 5050 SFF i3-7100 8GB DDR4 128GB m.2 SSD
✅ FAST Windows 11 Pro Desktop Computer for your Home or Office.
Dell Optiplex 5050 SFF (Small Form Factor) Desktop PC.  Intel Core i3-7100 running @3.90GHz 7th Gen Kaby-Lake CPU / Processor.  8GB DDR4-2400MHz Memory/RAM.  128GB m.2 SATA SSD for OS and Apps.  3.5″ Hard Drive Tray provided to add more Storage if you desire (see pic 12).  DVD-RW.  Upgraded to Windows 11 Pro (Manual Upgrade) 64bit UEFI TPM 2.0 Fresh Installed with No Bloatware.  HDMI, 2 x DP, VGA.  4 x USB 2.0.  6 X USB 3.0.  
Can be Used Immediately.  You need a Monitor, a Keyboard & Mouse, and an Internet/Ethernet Connection.  This Unit is Seller Refurbished.  Components Taken Apart, Dusted, Cleaned, and Re-Pasted.  All Ports checked for Function.  Windows OS 64bit UEFI Fresh Installed.
*Many Customers are Confused about the Windows 11 Upgrade.  Microsoft requires 8th Gen CPU or newer for Automatic Upgrades but also allows Manual Upgrades for everything else.  This PC meets or surpasses all the MS hardware requirements including TPM 2.0.  and the Windows 11 had been Manually Installed and Tested with No Issues*
** All Chris' Custom Refurbished Desktop PCs have all been Optimized to run it's Best.  Able to Cold Boot within 20+ Seconds, being able to open Apps Immediately.  Firmware/Bios been updated,, All Spyware and Background Apps turned off, and All the Latest Drivers and Updates Downloaded and Installed .**
Some Minor Scratches on the Case.  But Overall in Great Aesthetical Condition.  Grade A.
Power Cord Included.  No other accessories nor original packaging will be Included.
*Please Message the Seller regarding any Questions.  I will respond within One Hour*
Will be Shipped FREE Within One Business Day.
*Seller has the Right to Cancel any Order from a Buyer with Less than 10 Feedbacks and/or an Account Less than 6 Months Old*
***CUSTOMER REVIEWS***
�� Windows 11 FAST Computer Dell Optiplex 5050 SFF i3-7100 8GB 128GB SSD 500G
�� Win 11 P FAST Computer Dell Optiplex 5050 SFF i3-7100 8GB DDR4 128GB m.2 SSD
�� Win 11 P FAST Computer Dell Optiplex 5050 SFF i3-7100 8GB DDR4 128GB m.2 SSD
��Win11 Pro FAST Computer Dell OptiPlex 5050 SFF i3-7100 8GB 128GB m.2 SSD