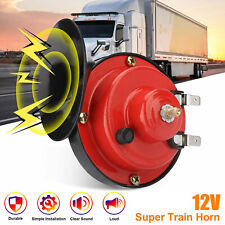 Price: 775 USD
12V Super Loud Train Horn Waterproof for Motorcycle Car Truck SUV Boat Red




SUPER TRAIN HORN
REAL 110-130DB!

Many sellers are selling 300DB horns, we just want you to be aware, you don't know what you will be getting because 300DB is so loud you could be terribly hurt by such a sound. Conduct your own research is our suggestion. If they are lying to you about the 300DB, you truly don't know what you will be getting, they can be lying about anything. With us we are being straightforward 110-130DB is VERY LOUD and you will be getting exactly this product.

Product Feature
SuperTrain Horn for Your Truck: The SuperTrain Horn offers the
loudest sound on the market, while also being the most compact Train
Horn offered.
Fast Installation: The Train Horn is a high-quality, high-end train
horn kit designed to integrate into as many trucks as possible. On top
of that, the installation process takes less than an hour.
Innovative Design: The Horn features an extremely powerful directly
injected mini-compressor paired with a patented snail design to really
charge and amp up the sound! All integrated into one small but powerful
device.
Extraordinary Equipment: There is no bulky air compressor, only a small device that produces incredible sound! It's so compact.
Broad Compatibility: Train Horn is Suitable For Almost Any Vehicle!
While It's the perfect upgrade for trucks, our horn is also compatible
with SUV, passenger cars, boats, and motorcycles.
Product Specification
| | |
| --- | --- |
| Type | Super Train Horn |
| Color | Red |
| Power Supply Voltage | 12 (V) |
| Power | 30 (W) |
| Sound Level | 110-130 (DB) |
| Current | 2 (A) |
| Working Temperature | 25 (℃) |
| Voice Coil | Copper |
| Diaphragm Material | Plastic |
| Size | Single 9x9cm (error +-1cm) |
Package Included
1 X  Super Train Horn