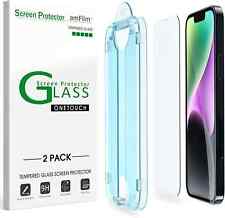 Price: 1299 USD
(2 Pack) amFilm for iPhone 14 Plus/ 13 Pro Max- OneTouch Glass Screen Protectors




(2 Pack) amFilm for iPhone 14 Plus (6.7″, 2022) & iPhone 13 Pro Max- OneTouch Glass Screen Protector (6.7″, 2021)  
[Patented Auto-Alignment Tech] Perfect installation within 60 seconds! The screen protector is embedded in a plastic frame that fits perfectly over your phone. Set the frame on your phone, swipe down the middle, and done! Watch our Installation Video to see how easy it is to use our Innovative OneTouch Auto-Alignment Screen Protector.

[Screen Protector Compatible with 
iPhone 14 Plus & 
iPhone 13 Pro Max 6.7″] Specially designed ONLY for the 6.7 inch models 
of iPhone 14 
Plus
 &
 iPhone 13 Pro Max. Not compatible with any other iPhone models.
[Screen Protection] 0.33mm thick premium tempered glass offers full coverage, scratch resistance, and drop protection for 
your iPhone 14 
Plus
 &
 iPhone 13 Pro Max 6.7"
[Anti-Fingerprint] amFilm tempered glass screen protector 
for iPhone 14 
Plus
 &
 iPhone 13 Pro Max is finished with oleophobic coating to reduce fingerprints and provide ultra-clear high definition with 99.9% transparency.
Includes: [2 Pack] for iPhone 14 Plus & iPhone 13 Pro Max- 6.7″ Screen Protectors, two auto alignment tool kits (screen protectors come pre-installed in the auto alignment tool) and two installation accessory kits.
Compatible With: iPhone 14 Plus & iPhone 13 Pro Max
Abridged Warranty: 30 Day Money Back Guarantee, 12 Month Replacement Warranty
We accept PayPal as the sole form of payment, this includes credit card payments through PayPal.
Please pay immediately upon purchase of item or after a "Best Offer" was accepted.
All domestic orders within the continental United States qualify for free shipping, however additional fees like sales tax, international shipping charges, or import duties may apply.
Sales tax will be applied contingent upon the state each buyer resides. 
We offer free shipping for domestic deliveries (does not include Alaska, Hawaii, or Puerto Rico – standard shipping charges may apply).
Guaranteed shipment within one business day (Monday – Friday) of transaction (some exceptions – such as holidays – apply).
Most orders purchased on business days before 2 PM (Eastern Standard Time) will be shipped on the same day (some restrictions apply). 
All domestic deliveries are shipped via USPS First-Class Mail (routinely delivered  between 1 – 3 days, but can take up to 7 in some instances). 
International orders take 7 – 10 business days to be delivered on average, however this is subject to change depending on the destination country.
Tracking numbers for all orders are provided upon shipment.
We do not support local pickup.
Please contact us if you have not received your delivery within 10 days of your order being shipped.     
We offer a 30 Day Money Back Guarantee that can be refunded for any reason upon return of the purchased item. 
We offer one Lifetime Replacement Warranty for all screen protectors, and one 12 Month Replacement Warranty for any other listing (car mounts, styli, etc.).
We will cover the return shipping costs for any issues that are the direct result of an error or quality-relating issue. Examples include receiving a damaged/defective item or having been shipped an incorrect product.
Shipping fees relating to exchanges for correct models, cancellations, or accidental orders will be the responsibility of the customer. Refunds will be processed for the full purchase price of the item once we receive the return. For any returns of this nature, we ask that you ship the item back to us in a new, unopened, sell-able condition.
Our warranty coverage only applies to TechMatte, amFilm, amCase, and amPen products purchased from techmatte-direct. Branded items purchased from other sellers are not covered under this warranty.
Please use eBay message to contact us for returns, replacements, or other issues (all inquiries will be answered Monday through Friday between 8:30 AM and 4:30 PM).