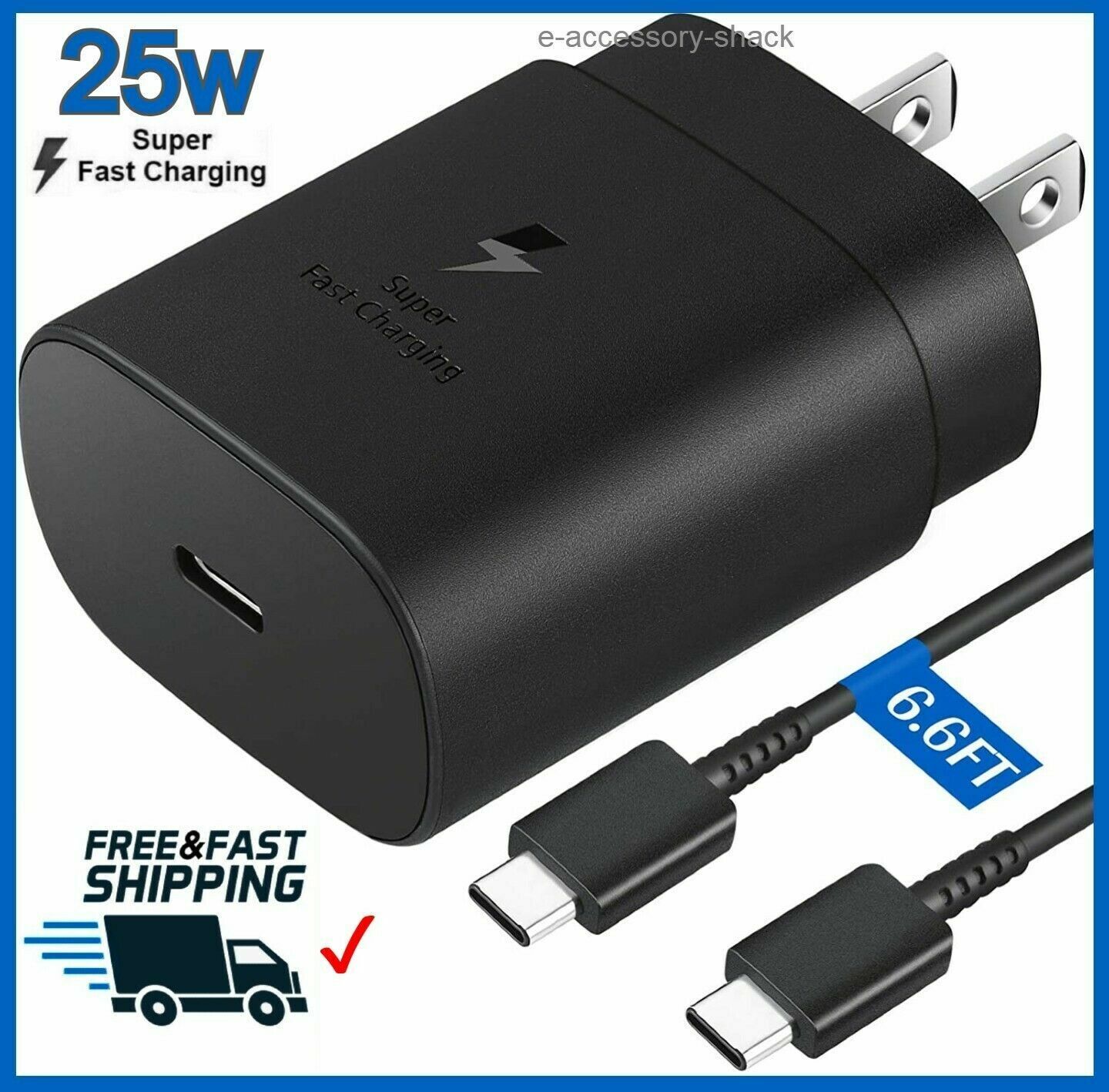 Price: 1093 USD
25w Type USB-C Super Fast Wall Charger+6FT Cable For Samsung Galaxy S22+Ultra 5G




25W USB-C

 

Wall Charger + 6.6ft USB-C to USB-C Charging Cable

This item outputs up to a GENUINE 25w, does not top out at 15w or less like the many of other listings that advertise 25w but actually provide less.  Beware of other listings claiming 25w.

This adapter will activate 25W "Super" Fast Charging on devices that can utilize this feature.  Below is a partial compatible model list that can utilize the full 25w:

Comes with a 6.6ft USB-C to USB-C cable, it is 2x the length of the stock cable that comes with your phone and 2x the length of all the other similar listings you see for sale.
【Super Safety Fast Charging】

PD3.0 Technology ensures an optimized and rapid safe charging experience(25W) for all Samsung Galaxy S20 / Note 20 / Note 10 / 10+ and S10 5G Models,up to 9V/2.77A charge speed,Fast charge your battery from zero up to 100% in about 60 min.

【Universal Type C Phone Charger】

The USB C Wall Charger can provide fast charge for Type-C phones and tablets, such as the 2018 and newer iPad Pro 11/12.9, Samsung Galaxy S22, S22+, S21, S21+, S20, S20+,S10, S10+S9, S9+ Plus, S8, S8+ Plus / Active, A70, A80, S10, S10 plus, LG G7 Thing, G8, G6, G5, Stylo 4, V20, V30, V35, V30S, V40 ThinQ Plus, Motorola Moto Z and more.

【6.6 Feet USB-C to USB-C Charging Cable】

 Length of 6.6 feet, easy for charging on different occasion, for travel, home, car, office, etc.

【Flexibility and Safety】

: Use the cable to sync and transfer files at amazing speeds with your Galaxy or other compatible smartphone or laptop. Intelligent circuit design protects against short circuiting, over-heating, over-current, and over-charging for safe with fast charging. Sustained high-power output will have a temperature rise, but they are all within the safety limits.

【Package Includes】

:

 1×25w wall charger, 1×6.6ft c to type c cable, 100% no risk money back guarantee , if there is any problem please contact me.
Compatible With:
Galaxy A11/A12/A13
Galaxy A20/A21/A22/A23
Galaxy 
A50/A51/A52/A53

Galaxy 
A70/A71/A72/A73

Galaxy 
A90/A91/A92/A93
Galaxy S8/S8+
Galaxy S9/S9+
Galaxy S10/S10+/S10e
Galaxy S20
Galaxy S20 5G
Galaxy S20+
Galaxy S20+ 5G
Galaxy S20 Ultra 5G
Galaxy S20 FE
Galaxy S21 5G
Galaxy S21+ 5G
Galaxy S21 Ultra 5G
Galaxy S22 5G
Galaxy S22+ 5G
Galaxy S22 Ultra 5G
Galaxy Note 8
Galaxy Note 9
Galaxy Note 10
Galaxy Note 10 5G
Galaxy Note 10+
Galaxy Note 10+ 5G
Galaxy Note 10 Lite
Galaxy Note 20
Galaxy Note 20 5G
Galaxy Note 20 Ultra
Galaxy Note 20 Ultra 5G
Galaxy Note 21 (all models)
Galaxy Tab S3 S4 S4 S5 S6 S7 S8

Galaxy A02/A02s/A03/A03s/Core
Samsung Galaxy Z Flip/Fold 3 4
Any LG phone that uses USB-C
Any Motorola phone that uses USB-C
Any HTC phone that uses USB-C
Works with most other USB-C compatible Devices – Message me with any compatibility questions.
Known incompatible brands – Google, OnePlus
This adapter is an "auto switching" adapter, meaning it will also activate regular 15w "fast" charging on devices that can't utilize the max 25w output.   It will also do lower outputs such as 5W and 10W for devices that need them.  In short, your device will only pull the wattage it requires, no more.  This is an unbranded product but manufactured to precise Samsung specifications.  It is every bit as good as the original for half the price.   
Please note, 6ft cables will charge slightly slower than the stock 3ft cables that come with your phone, this is basic physics, longer cable equals higher electrical resistance which decreases charge speed slightly, the difference is small but worth mentioning.   If you were to use your stock 3ft cable that came with your phone the charger will perform the same as the Samsung version.  

Message me with any questions.

Input:
100-240V, 50-60Hz, 0.7A

Output:
(PDO): 5.0V-3.0A or 9V-2.77A
(PPS) 3.3-5.9V-3.0A or 3.3-11.0V-2.25A