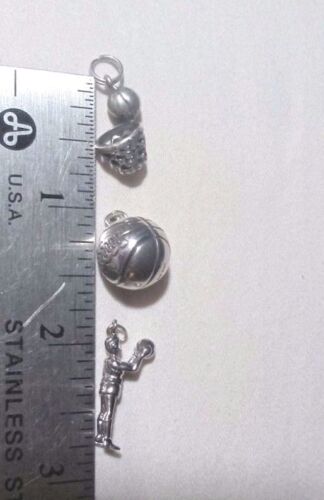 Price: 1400 USD
3 Estate SPORTS 50s-90s Ster CHARMS 3D BASKETBALL theme: *Ball *Net *Player




We combine shipping where safe to do so. Internationals, we use Ebay Global Shipping only. Many of our items are from an old Yankee New England Maine Family estate –Hope you find something you can treasure.  Pictures are worth 1,000 words, so we let our photos do the talking. Be aware that camera flash and your color monitor can cause color difference –-Remember pics are closeups of item and thus exaggerated, use ruler/coin photos and/or Description for better estimate of actual size  We have 5-10 days handling due to health issues, If you need sooner, let us know and we will try to accommodate if we can
—————————————————————-
PLEASE VIEW ALL PHOTOS and READ ENTIRE LISTING
—————————————————————-
Three (3) Estate vintage 1950s-1980s 
Sterling CHARMS span the decades!

3-D BASKETBALL theme
(1) appx 1950s: 3-D Basket BALL hallmarked for sterling and JMF (Foster)
(2) appx 1970s-80s:  B'ball NET with Ball perched on the rim. no marks
(3) appx 50s-60s: 3-D Basketball PLAYER in midst of Free Throw, hallmark on back
GREAT set of Sports charms, Winner/Buyer gets all 3 — for your basketball player, lover, fan
Size: see photos with ruler 
—————————————————————-
PLEASE VIEW ALL PHOTOS and READ ENTIRE LISTING
—————————————————————-
We'd love to see someone adopt and enjoy! 
We are a smoke-free household with 2 hypoallergenic dogs (Standard Poodles) – We have 5-10 day handling for health reasons, but if you need sooner LET US KNOW right away, we will do our best to accommodate if we can
————————————————————————–
Some General Info re: Silver charms and bracelets in our listings 
–FYI: it is not unusual for sterling charms to be unmarked from this era: many charms came unmarked on display sales cards that had the maker and metal info; as well as jewelry items under a certain weight did not have to be hallmarked.
–FYI: Rhodium is in the Platinum family of metals.
 It was often used in the 50s-70s to plate sterling silver to avoid tarnishing,
 In the Rhodium plating process, 925 Sterling Silver is given a nickel underplate prior to Rhodium plating. The nickel is magnetic and causes the magnetic attraction.
–FYI: Sterling 925 or Euro Silver 800, 835, 900 – vintage European silver is highly collectible.
———————————————————————–
RULES
Simple rules: 
1. Please read entire listing & view ALL photos, then Bid/Buy ONLY if you plan to win and pay within 3 days.
2. CONTACT US WITH QUESTIONS before bidding, saves a lot of grief.
3. If life gets away from you, CONTACT us if you need an extension so we can turn off the automatic non-payment case thing that eBay does.
4. If life gets away from us, we will CONTACT you to let you know if there are any delays.
5.  IF you win and are in a hurry because of birthday or whatever TELL US THIS ASAP – before you bid/buy is best.  If we dont know about it, we cant do anything about it. 
6. HONESTY is the best policy.  We are honest and do our best to describe accurately and ask you to use the photos to help you decide if you wish to bid. No refunds/No returns, so ask questions first.
7. When things are USED, they will not be perfect, so if you are looking for perfection, look elsewhere.
8. Nope, NO international shipping other than through eBay Global Shipping.
9. Kindly be NICE if there is a problem: Honey gets more bees than vinegar.  We will work with you nicely to fix things the best we can.
10. WE DO NOT DO REFUNDS.  But some buyers just go ahead and go through eBay – when we prefer you contact us first if there is a problem, give us a chance to make things right for all.  PLEASE NOTE: we charge a 15% RESTOCKING FEE on the total amount if we determine the return is UNWARRANTED:
——Buyers Remorse.
——Changed Mind. 
——Dont like Color.
——Dont like in general. 
——Found another one same or similar for less.
——Doesn't fit.  
——Bid or Bought without asking questions
——Bid or Bought without reviewing measurements in desc and/or photos to compare to buyer's own fitting garments
——Bid or Bought, quote, "By Mistake"
And other such unwarranted excuses.
If you go through eBay return system, expect a partial refund unless item is not as described.
— Again, read #1 again. Buyers are expected to read entire listing, compare measurements, use photos, and ask questions if anything is unclear BEFORE bidding/buying.  Thanks for your understanding.
11. As sellers, we leave feedback after we receive your feedback. As a buyer, we leave feedback as soon as we receive and review our items, so ask you please to do the same!
12. PALINDROMES rule!  
"Go hang a salami, Im a lasagna hog." "Solo Gigolos."
"Mr. Owl ate my metal worm."  "Was it a car or a cat I saw?"  "Never odd or even."
signed, Vorpalaprov
Hey!! Please pay promptly within 3 days so we can get your item(s) to you ASAP — PLEASE KNOW we use Ebay's authorized 'Unpaid Item Assistant' to open unpaid cases on our behalf, so if you don't pay within 3 days EBAY WILL AUTOMATICALLY OPEN a NONPAYMENT CASE AGAINST YOU!! 
—–So PAY IMMEDIATELY or CONTACT US if you need more time! You dont want an Unpaid Strike against you!  
—–Thanks, Good Karma! Here is another palindrome for your enjoyment: 'Marge lets Norah see Sharon's telegram.'
———————————————-
PLEASE NOTE ABOUT THE CLOTHING/WEARABLES WE LIST: Any clothing /shoes/accessories we list are helping us to clean out our own closets, to empty boxes of stored goods from a friend's boutique that went out of business, and to find homes for garments from catalog photoshoots. We sell as-is with no returns. We are now retired and moving things forward before we ourselves "move forward!!!"
—For all clothing/wearables we sell – new and especially used – we check for holes, tears, wear, spots, or any other imperfections before we list.  Whether new or used, we have made every attempt to note any flaws in our listings, but may miss something due to aging eyes and/or sheer ignorance about a particular item.
—We ask you to understand that even if we missed something in the description, you are still getting a BARGAIN compared to buying retail, so YOU may need to have the item cleaned, shaped, restored, refreshed, get a button replaced, stitch where threads have come loose, whatever…  
—-Many are just simply wrinkled from storage… Many can be worn as they are, but would benefit from a pressing or cleaning at winner's discretion — especially worn garments, or even if clothing in new "store" condition, with or without tags, or New Old Stock, because they were once hanging on racks or in store displays, handled by shoppers, dumped in carts, possibly dropped, certainly tried on, some taken home & then returned to store, — and/or often have a dingy look from dust and light soiling from handling, or evidence of being in storage.
THANKS FOR YOUR UNDERSTANDING, LOOKING, & IF YOU PURCHASE — WEAR/USE IN GOOD HEALTH!!!
PALINDROMES rule!  
"Go hang a salami, Im a lasagna hog." 
"Solo Gigolos."
"Mr. Owl ate my metal worm."  
"Was it a car or a cat I saw?"  
"Never odd or even."
Vorpalaprov
"Beware the Jabberwock, my son!  
The jaws that bite, the claws that catch!
His Vorpal blade went snicker-snack…"
LaProv: good ol' Providence Voh Dyelun