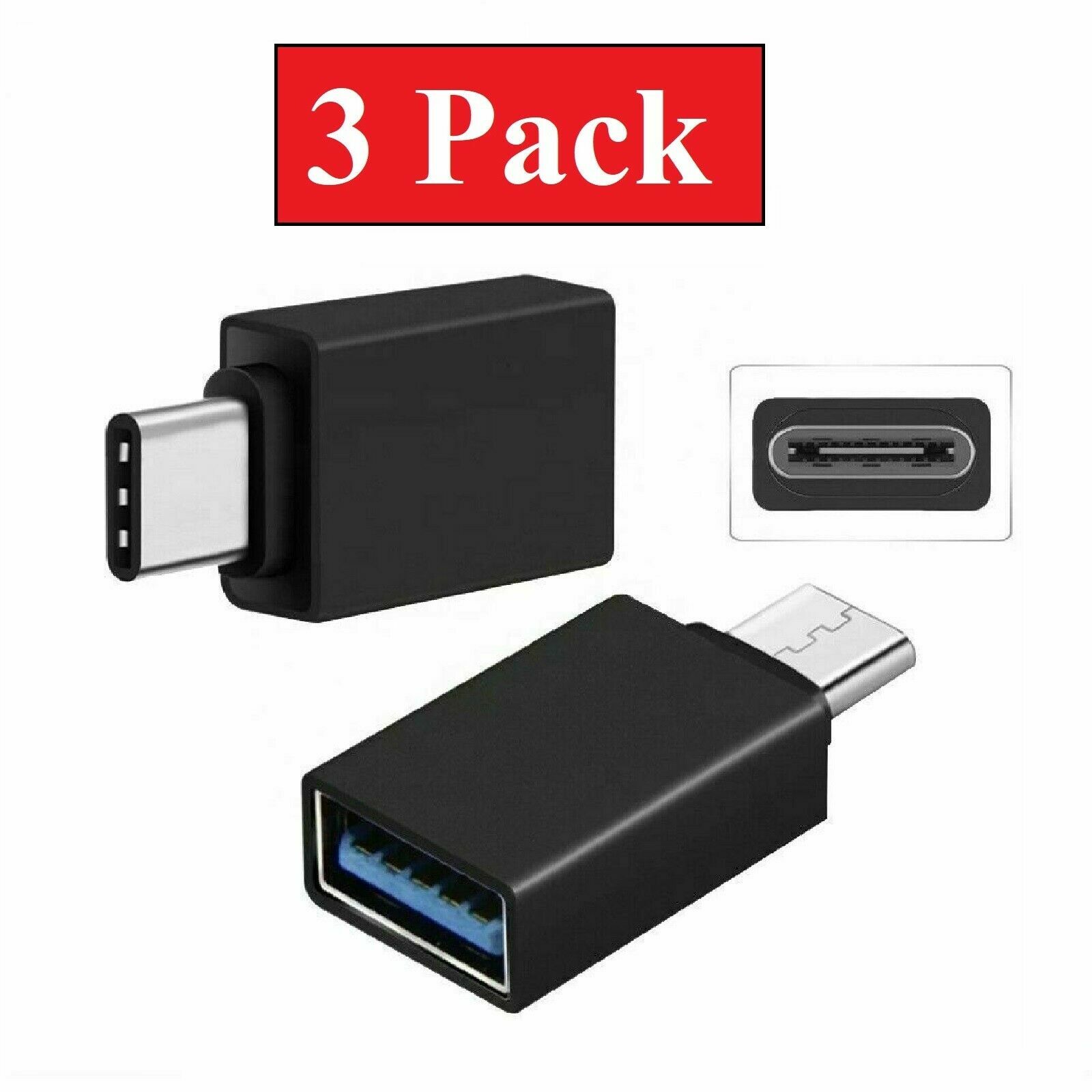 Price: 249 USD
3-Pack USB-C 3.1 Male to USB A Female Adapter Converter OTG Type C Android Phone




USB-C 3.1 Male to USB A Female Adapter Converter OTG Type C Android Phone
With OTG function supported, it connects your USB-A (Flash Drive, Mouse, card readers, Keyboard) to USB-C devices (smart phone, tablet, laptop);
Reversible plug helps you insert the connector in quickly without worry about plugging it in upside down. 
Backward compatible with USB 3.0 and USB 2.0. 
Using this premium adapter to get yourself super speed data transfer up to 5Gbps.
Compatible with Google Nexus 5X/ 5P, Chrome book Pixel, Mac Book 12′′ (2015), Lumia 950/ 950X, Xiaomi cell phone, etc.
Featuring compact, fashionable silver metal shell design, it is a perfect complement for your devices.
Simpler, Faster and More Powerful  
It supports USB 3.1 OTG (on the go) function and it will establish communication link between OTG compatible devices (MacBook 12 inch, Google Chrome Book Pixel, etc.) and hard drive, mouse, some digital camera, etc. Then you can use your USB-C OTG phone (act as a host) to get data, video and audio from cell phone or hard drive without using a computer.
Specific:
Connector A: USB Type A Female;
Connector B: USB Type C Male;  
Specification: USB Type C 3.1, and USB Type A 3.0;
Date Speed: Up to 5Gbps
Compatible with USB 3.1/ 3.0/ 2.0/ 1.1/ 1.0
Plug and play, no external drives required.
Compatible Devices: 
Mac book 12 inch
Google Nexus 5X
Google Nexus 5P,
Chrome book Pixel 2
Toshiba Satellite Radius 12.5 inch 
HP Elite Book 705G3 /725/ 745 / 755
Lumia 950
Lumia 950X
Xiaomi M5 / 4s / 4c / 2 SE 
HuaWei
…
Important Note:  It supports OTG function for connecting to USB Peripherals, NOT for power charging.
What's in the Box
Compatible Models:
Google Nexus 5X
Google Nexus 6P
Samsung Galaxy S8
Samsung Galaxy S8+
Samsung Galaxy Note 8
Google Pixel
BlackBerry DTEK60
Samsung Galaxy Note 7
Sony Xperia XZ
Sony Xperia X Compact F5321
Xiaomi Mi 5
Xiaomi Mi 4s
Xiaomi Mi 4c
Xiaomi Mi 5s
Xiaomi Mi 5s Plus
Xiaomi Mi MIX
Xiaomi Mi Note 2
Microsoft Lumia 950
Microsoft Lumia 950 XL
ZTE Axon Max
ZTE Grand X 3
ZTE Axon 7
ZTE Grand X Max 2
ZTE Zmax Pro, Z981
ZTE Axon 7 Mini
ZTE Grand X 4
HP Elite x3
LG G5
LG V20
Gionee S6
Lenovo Zuk Z1
Lenovo Phab 2 Pro
Lenovo YOGA Tab 3 Plus
Lenovo Miix 510
OnePlus 2
OnePlus 3
OnePlus 3T
Nokia N1
Apple Macbook 12″
Asus ZenPad S8
Asus ZenFone 3
Asus ZenFone 3 Deluxe
Asus ZenFone 3 Ultra
Asus ZenPad Z8
Asus ZenPad Z10 ZT500KL
Huawei P9
Huawei P9 Plus
Huawei Nova
Huawei Nova Plus
Huawei MediaPad M3
Huawei Mate 9 Porsche Design
HTC 10 / HTC One M10
HTC Bolt
honor Note 8
Meizu Pro 6
Meizu MX6
Meizu M3 Max
Meizu PRO 6 Plus
Meizu M3X
Motorola Moto Z
Motorola Moto Z Force
Motorola Moto Z Play Droid
Motorola Moto Z Play​
For All Other USB Type-C Supported Devices