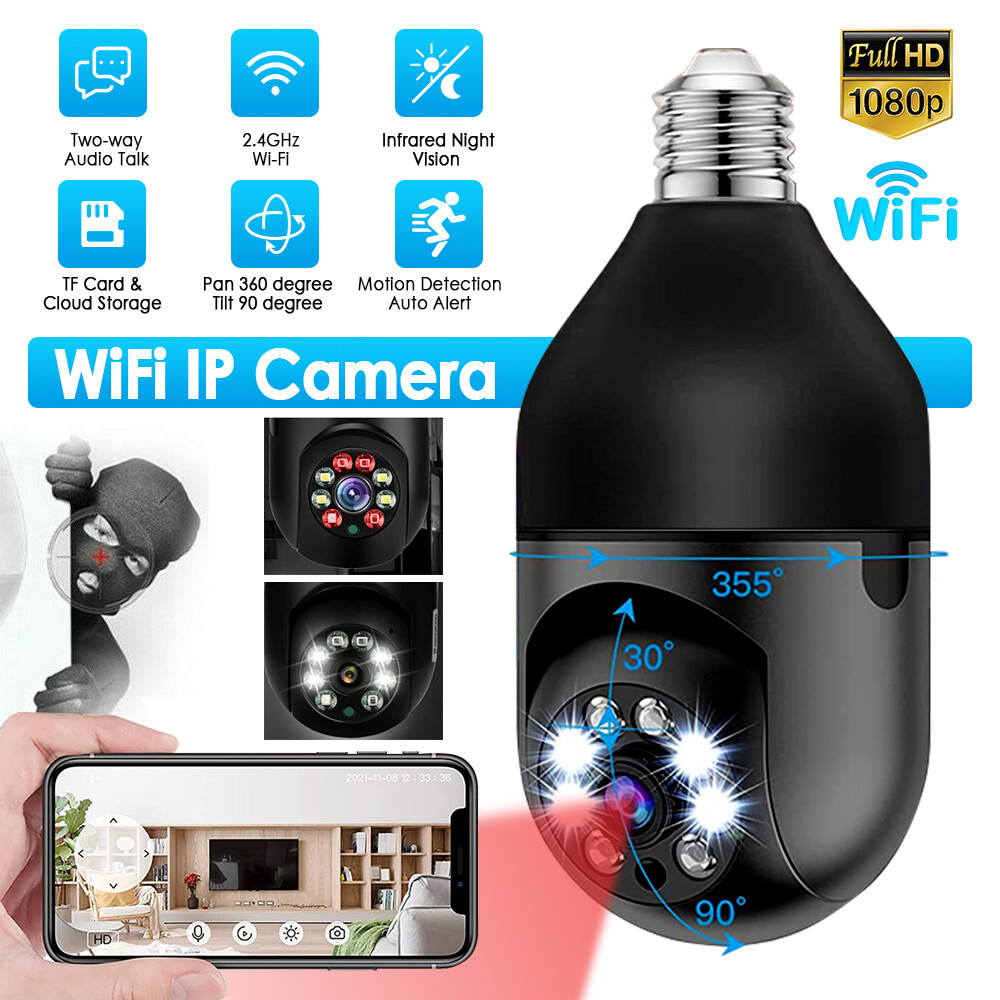 Price: 3898 USD
360° 1080P IP E27 Light Bulb Camera Wi-Fi IR Night Smart Home Wireless Security




Item Specifics
Brand
Unbranded
Type
Surveillance Camera
Model
SmartCam
Connectivity
IP/Network Wireless
Features
Wi-Fi
Surveillance Technology
PTZ
Smart Home Protocol
Wi-Fi
Color
Black
360° 1080P IP E27 Light Bulb Camera Wi-Fi IR Night Smart Home Wireless Security
360°PTZ 1080P IP Camera E27 Light Bulb camera Wifi Smart Home Security Camera Auto Tracking Full Color Night Vision Wireless Baby Monitor
Feature:
1.2MP 1080P High Definition Images: The lens features 2 Million Pixels and 1080P high resolution, producing ultra high definition images and video. Even small things are clearly seen.
2.Full Color & Infrared Night Vision: Equipped with 4 white led lights and 4 IR lights, the smart WiFi camera can provide Full Color night vision and IR night vision. It makes objects within 10-15 meters seen clearly in darkness. If you are on a business travel, you may need this to monitor your baby's night sleep or protect your home from theft. 
3.Motion Detection, Auto Alert: The surveillance camera will automatically track moving human when it detects human motion, and light up for warning at the same time. Your phone will receive notification of the movement as well.
4.Pan 360 degree & Tilt 90 degree: The PTZ wireless camera is able to rotate horizontally by 360°and vertically by 90°,making every corner visible. It rotates freely to track human, letting you learn the situation of home at any time.
5.WiFi Connection, Remote Viewing: Supporting 2.4G Hz WiFi connection, the wireless camera enables you to remotely watch what happens in real time through the app.
6.Two-way Audio Talk: This indoor security camera has a built-in mic and a speaker, allowing you to speak to your families at any time and anywhere through the app. 
7.TF Card & Cloud Storage Options: Supports up to 128GB TF card and provides cloud storage service(need to pay extra cost), playback monitoring video anytime and anywhere, and can download and save, collect your memories.
8.Quick Mounting: Equipped with a E27 lamp holder, the IP camera can be put in place very soon without cables needed.
Specification:
Type: WiFi IP Camera
Size: 2.8*6.1inch
Color: Black
Lens: 3.6MM
Sensor: CMOS
Image Sensor: 1/3
Resolution: 1920*1080
Megapixels: 2MP
PTZ: Horizontal: 360°; Vertical: 90°
Light Source: 4* IR Lights + 4* White LED 
Storage: Cloud Storage + Local Storage (64GB TF card is optional)
Lamp Holder Specifications: E27
Connectivity: IP/Network Wireless
Power Supply Voltage: 110-220 (V)
Signal to Noise Ratio: > 48 (dB)
Package Included:
1 * WiFi IP Camera
1 * E27 Light Socket
1 * User Manual
Payment
1. This is the payment method we can accept: Paypal
2. You can checkout and pay immediately after the auction ends or you complete the purchases. If you need an eBay invoice sent to you by Email, please contact us before making payments.
Shipping
1.We will ship to your eBay address. Please make sure your eBay address is correct 
before you pay.
2.We will ship out your order within 2 business days after receiving your verified payment (Excluding Weekends and Public Holidays)! 
Returns
1.If you are not satisfied with our products. Please kindly contact us before you open the return request. We provides 30 days Money Back or Exchangement Warranty. 
2.Please Kindly contact us for the RMA No.and address before returning the item back.
Contact Us
1. Please contact us if you are not satisfied with the item after receive it. Just contact us using the " Ask the seller a question" link on eBay. 
2.All replies will be sent to your email, if you don't get response within 1-2 business days, pls check your My messages' in case your email provider has an overly-aggressive spam filterblocking eBay's emails. Please email us AGAIN.Thanks
360° 1080P IP E27 Light Bulb Camera Wi-Fi IR Night Smart Home Wireless Security

360°PTZ 1080P IP Camera E27 Light Bulb camera Wifi Smart Home Security Camera Auto Tracking Full Color Night Vision Wireless Baby Monitor

 

Feature:

1.2MP 1080P High Definition Images: The lens features 2 Million Pixels and 1080P high resolution, producing ultra high definition images and video. Even small things are clearly seen.

2.Full Color & Infrared Night Vision: Equipped with 4 white led lights and 4 IR lights, the smart WiFi camera can provide Full Color night vision and IR night vision. It makes objects within 10-15 meters seen clearly in darkness. If you are on a business travel, you may need this to monitor your baby's night sleep or protect your home from theft. 

3.Motion Detection, Auto Alert: The surveillance camera will automatically track moving human when it detects human motion, and light up for warning at the same time. Your phone will receive notification of the movement as well.

4.Pan 360 degree & Tilt 90 degree: The PTZ wireless camera is able to rotate horizontally by 360°and vertically by 90°,making every corner visible. It rotates freely to track human, letting you learn the situation of home at any time.

5.WiFi Connection, Remote Viewing: Supporting 2.4G Hz WiFi connection, the wireless camera enables you to remotely watch what happens in real time through the app.

6.Two-way Audio Talk: This indoor security camera has a built-in mic and a speaker, allowing you to speak to your families at any time and anywhere through the app. 

7.TF Card & Cloud Storage Options: Supports up to 128GB TF card and provides cloud storage service(need to pay extra cost), playback monitoring video anytime and anywhere, and can download and save, collect your memories.

8.Quick Mounting: Equipped with a E27 lamp holder, the IP camera can be put in place very soon without cables needed.

 

Specification:

Type: WiFi IP Camera
Size: 2.8*6.1inch
Color: Black
Lens: 3.6MM
Sensor: CMOS
Image Sensor: 1/3
Resolution: 1920*1080
Megapixels: 2MP
PTZ: Horizontal: 360°; Vertical: 90°
Light Source: 4* IR Lights + 4* White LED 
Storage: Cloud Storage + Local Storage (64GB TF card is optional)
Lamp Holder Specifications: E27
Connectivity: IP/Network Wireless
Power Supply Voltage: 110-220 (V)
Signal to Noise Ratio: > 48 (dB)

 

Package Included:

1 * WiFi IP Camera
1 * E27 Light Socket
1 * User Manual

1. This is the payment method we can accept: Paypal

2. You can checkout and pay immediately after the auction ends or you complete the purchases. If you need an eBay invoice sent to you by Email, please contact us before making payments.

1.We will ship to your eBay address. Please make sure your eBay address is correct 

before you pay.

2.We will ship out your order within 2 business days after receiving your verified payment (Excluding Weekends and Public Holidays)! 

1.If you are not satisfied with our products. Please kindly contact us before you open the return request. We provides 30 days Money Back or Exchangement Warranty. 

2.Please Kindly contact us for the RMA No.and address before returning the item back.

1. Please contact us if you are not satisfied with the item after receive it. Just contact us using the " Ask the seller a question" link on eBay. 

2.All replies will be sent to your email, if you don't get response within 1-2 business days, pls check your My messages' in case your email provider has an overly-aggressive spam filterblocking eBay's emails. Please email us AGAIN.Thanks
---
On Aug 2, 2022 at 02:08:10 PDT, seller added the following information: