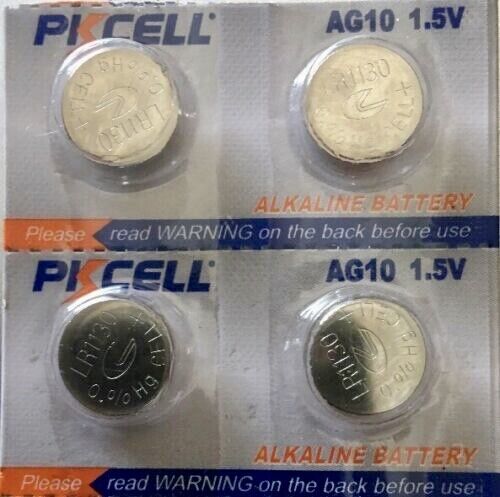 Price: 179 USD
4 PKCELL LR1130 AG10 189 L1131 389 V10GA 1.5 V BATTERY




This is for brand new 4 PKCELL LR1130 AG10 Batteries. 
100% Brand New (Original Factory Sealed Package)
Model: LR1130
Model: AG10 

Replacement Guide – These LR1130 are Compatible with: 189, AG10, L1131, SR1130 G10, V10GA, 389
Cross reference: LR54, Duracell D189A, Rayovac 189-1, Panasonic LR1130 ANSI/NEDA 1168A, Sony 189, Varta V10GA, GP89A, Vinnic L1131, CR1130, CR 1130, CR-1130, LR1130, LR-1130
  
Applications:  Laser Pointer, Hearing Aids, Insulin Pumps, Heart Rate Monitor, Watches, Cameras, Calculators, Car Security Alarm, Keyless Car Remotes, Organizers, Glucometer, Computer Equipment (memory backup battery) CMOS, Toys, Communication Equipment, Data Pack for Video Cameras, and other devices that requires this battery size
Specification
Capacity : 35 mAh
Voltage : 1.5 V
Diameter : 11.6 mm
Height : 3.05 mm
Chemistry : Alkaline 
We ship free by U.S. Postal service with normal delivery to you in 2-3 days. (THE DO CALL IT SNAIL MAIL FOR A REASON) PLEASE DO NOT BLAME ME IF IT TAKES LONGER THAN NORMAL.We ship the day item is paid for, this means we go to the Post Office Daily. The Post Office process may not be daily. They normally process weekend mail on Mondays and Holiday mail the next business day. 

This is  brand new SEALED battery. Battery is seal with very very thin plastic, which may tear in transit. Please forgive me if that happens. I assure you that all batteries I sell are brand new. Thanks