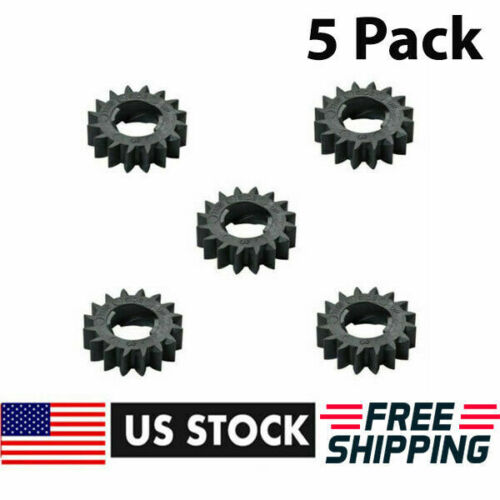 Price: 1099 USD
5 – Briggs & Stratton Starter Gear Plastic 16 Tooth 280104S 693058 693059 695708




NEW Starter Motor Pinion Gear Bendix for BRIGGS & STRATTON ENGINE 16 TOOTH280104S 693058 693059 695708
Quantity 5 (Five)
(
Five
) 2 Replacement Aftermarket Briggs & Stratton Plastic Starter Gear for Aluminum and Plastic Flywheel Gear Engines. Gear will fit many models of Briggs Engines.
**We have these in quantities of 5, 10, 25 in our store if you need more.**
***REMEMBER TO INSTALL THIS GEAR ON THE STARTER WITH THE BEVEL SIDE UP, THE FLAT SIDE OF THE GEAR MUST FACE DOWN TO THE STARTER, IF YOU INSTALL IT INCORRECTLY THE GEAR MAY BE DAMAGED AND WILL NOT BE WARRANTY.***
**SPECIAL NOTE: IF YOU ARE REPLACING YOUR OLD GEAR DUE TO STRIPPED TEETH OR BREAKAGE, PLEASE TROUBLE SHOOT THE ISSUE BEFORE INSTALLING NEW GEAR AS IT WILL CAUSE DAMAGE TO NEW GEAR AND NO WARRANTY CAN BE CLAIMED. IF YOUR GEARS IS STRIPPED THIS IS DUE TO STARTER SPIRAL DRIVER BEING DAMAGED AND THE GEAR STICKING UP AND NOT DROPPING DOWN AWAY FROM FLYWHEEL, CAN ALSO STRIP TEETH IF SPRING IS INSTALLED WRONG, SPRING MUST BE ON TOP OF GEAR TO PUSH DOWN, IF GEAR BREAKS IN HALF THIS IS DUE TO ENGINE KICK BACK FROM HIGH COMPRESSION. THIS USUALLY MEANS THAT YOU NEED TO HAVE THE VALVES ADJUSTED AS THE ENGINE IS BUILDING UP TO MUCH COMPRESSION AND KICKING BACK ON THE STARTER.** IF YOU NEED TROUBLESHOOTING ASSISTANCE PLEASE LET US KNOW WE ARE HERE TO HELP OUT.
Replaces: M83184, 280104, 280104S, 4114, 4155, 4194, 5086H, 5086K, 693058, 693059, 695708, LG280104, LG280104S, LG693059, LG695708, M150236, M83184