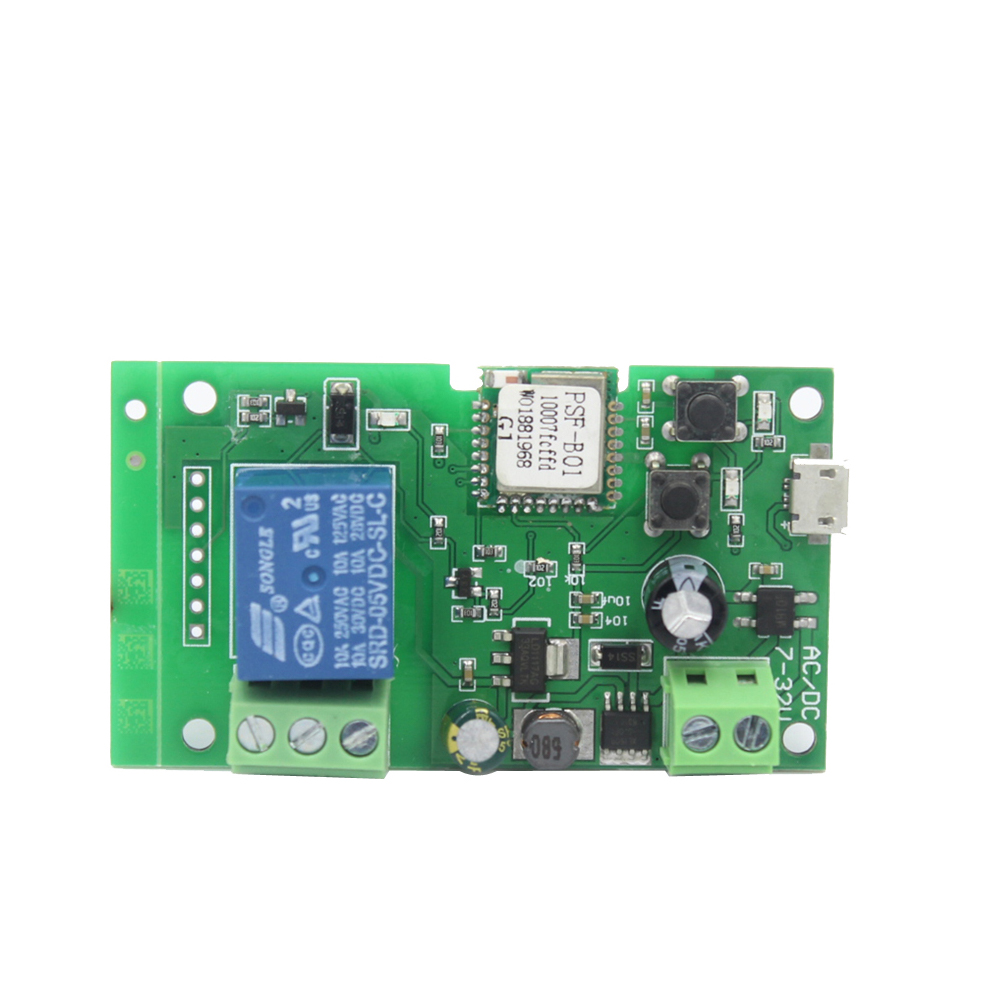 Price: 1599 USD
5V – 32V Inching Self-locking WiFi Wireless Smart Switch Relay Module Smart Home




This product is a wireless switch supports inching /self-locking mode. 
Users can add the device to the APP eWeLink in order to remotely control connected home appliances or devices. 
In self-locking mode, customers can remotely turn on/off connected devices immediately. 
When in inching mode, customers can have two wiring ways to select:
Turn on 1s and then auto-off
Turn off 1s and then auto-on.
The product enables remote control of home appliances through the mobile application eWeLink, available on both Android and iOS. 
Supported functions include:
Supports WiFi network.
Supports status tracking: device status timely provided to the EWeLink.
Supports remotely turn on or off connected appliance/light.
Supports max 8 enabled scheduled/countdown/loop timers for each device.
Supports numerous WiFi smart switches on one smart phone.
Works with Amazon Echo, Echo Dot, Amazon Tap
Works with Google Home
Works with Google Nest
The self-lock/inching mode wireless switch has two input voltage supply specifications: 5V and 5V/7-32V. No matter which specification is selected, the functions remain the same.
5V self-lock/inching mode wireless switch
Dimensions: 2.7″x1″x0.9″ (70.5mmx27.4mmx23mm)
Operating current: 5V DC or 5V/7-32V DC
LEDs: 3 LEDs which indicate working mode, wifi status, relay on/off status respectively.
Two input interfaces
Board consumption: <1W
Standby current: 80mA
Max input current: 10A
Supports to control different voltage ranges
Relay lifespan: more than one million times
100M electrical insulation resistance
Electric shock voltage: 1000V
Relay maximum pull time: 15ms
Relay maximum release time: 5ms
Operating temperature: -40 degrees to +70 degrees
Operating Humidity 40% ~ 80% RH
Application
The switch can be applied to access control, turn on PC, garage door, etc.
Computer application
Remote control computer boot
USB port power supply more convenient