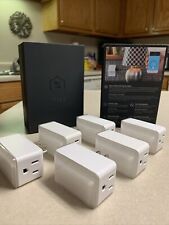 Price: 3500 USD
6 Pack Zuli SmartPlug Smart Home Control, Dimmer, Plugs Work – App Doesn't Work




6 Pack Zuli SmartPlug Smart Home Control, Dimmer, Plugs Work – App Doesn't Work.
These plugs no longer work with the Zuli App. But the smart plugs still function. The Zuli company went out of business. However, the app can be installed on jailbroken devices. More experienced users could still use these plugs with raspberry pi server to control the smart plugs.These are not for the average electronics consumer as work will be required on your part to setup.
Plugs were used for about 6 months. I decided to upgrade setup moving away from Bluetooth to Wi-Fi.
Great starter or learning opportunity for someone looking to work with Bluetooth.