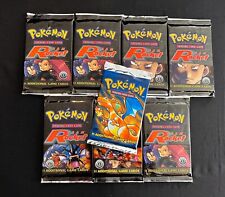 Price: 12900 USD
Best Pokemon Mystery Pack 1st Edition PSA BGS Holo Shadowless Booster Pack READ!




***Update 8/14- I sold out of my last listing which was 324 PACKS!!! So these have been a big hit. I sent out 7 vintage Charizards and 10s of thousands in vintage holos and booster packs. I still have Charizards and the same vintage WOTC cards that were sent out previously. I am still acquiring large amounts of mint cards through my collecting channels. As well as opening packs. So we're still going strong with this item!!
This is not your average mystery pack!!!
Over the last 2 years I have been opening vintage packs live on my twitch channel. It's time to start letting some of these cards go because I have THOUSANDS of vintage 1st editions. They are all pack fresh MINT straight from pack to sleeve.
I am also still purchasing collections and anything that is nm is going straight into these!
I am tired of paying grading fees and dealing with grading companies and I thought this would be more fun. 1 in every 10 packs will have either a psa 9/bgs 9 slab OR a SEALED 1st edition team rocket booster pack! (Two of which should contain a holo). The others will have various vintage holos, multiple first editions and modern v/vmax.
YOU ARE GUARANTEED-> Every pack (except for the packs that have the vintage team rocket booster or a graded 9 card) will have at least 10-15 cards, at least 3 1st editions, a mix of vintage and modern hits, v/vmax/holos, vintage holo. NO BULK OR JUNK CARDS. These are all from my personal collection and each pack will have a great mix of chase cards. Vintage packs are seeded 1 in 10 and I've sent out 10 so far.
KEEP IN MIND – in order for me to do this and send out 1st Ed zards and rocket packs and my high graded cards, some of these packs are under $130 value. But they still have good hits. The lowest value I do in any of these is between $80-$100. But the big hits are 1 in 3 so you have a great chance to hit something great.
BUY AT YOUR OWN RISK. The packs with the best hits are seeded 1 in 3. So if you purchase only 1 your odds are lower to get a big hit (obviously).
If you have an issue please reach out to me directly and I will be happy to help you out.
Other possible hits 👇👇👇
-1st Ed Dark Charizard holo (pulled last month)
-1st Ed Dark Charizard non holo (pulled last month)
-1st Ed Jungle Eeveelutions holos (pulled last month)
-Base set 2 Charizard holo nm
-Base set Venusaur x2 nm
-Umbreon Vmax Alt Art
-Sylveon Vmax Alt Art
-Espeon Vmax Alt Art (Japanese Promo and Fusion Strike)
-Many other NM vintage holos from Base through Expedition
I've included a pic of some of the wrappers from all of these openings. First 50 orders will get a wrapper and a modern set sealed booster pack (unless you get one of the rocket packs or slabs). Every pack comes with a modern booster pack!
***DISCLAIMER! – THIS IS A MYSTERY ITEM. You are not guaranteed to get the full value of what you pay or anything specific. This is a chance at hitting some huge hits. The big hit packs are seeded roughly 1 in 3. The other packs will have multiple 1st editions, v/vmax and or vintage nm holos. I will do my best to make each pack have great value but some may not be of equal value to what you pay. But some are going to be way OVER value vs what is paid. This is a chance at one of these great hits. NO REFUNDS WILL BE GIVEN. I am happy to work things out if you'd like different cards. But these packs are going to all have great hits!
For buyers purchasing multiple, dm me and I'll do what I can to ensure you get some great cards and or big hits.
This is basically my whole collection from opening around $50k in vintage and modern packs. About 30 hf etbs are part of that. So there are a lot of shiny vault cards and a psa 9 shiny zard sv49. This also includes my grade pile of vintage. So some of these cards are going to be worth A LOT more once graded. It is very rare to find this many vintage cards in mint condition and the only mystery pack on the internet with those rare Ivy pikas as a pull. This is a one time deal so once I sell out there will be no more. They are also listed on other platforms. I also buy collections regularly so anything that I acquire that is minty gets put straight into this.
It's hard to say exactly what will be in which pack because some of the bigger hits are modern full arts or alt arts. So I was going to do for sure 3 first editions common/uncommon or rare. 2-5 bigger hits depending on value and a mix of other vintage and modern cards and holos. No modern bulk. In the orders that get a rocket pack or slab, I was going to include 2 vintage cards only. (Since those are worth so much more). I will do my best to make sure each pack has some great stuff. Not a bunch of random junk. This is my personal collection and almost all of it was pulled by me in the last year.