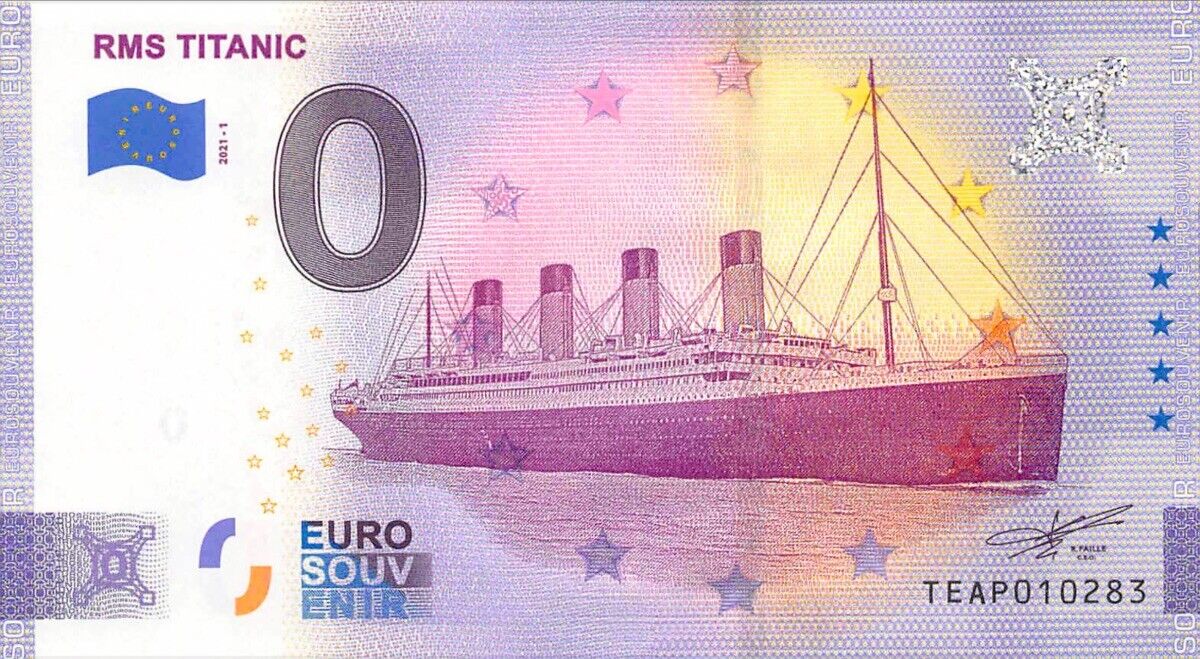 Price: 600 USD
Commemorative 0 Euro Limited Edition Souvenir Banknote of the RMS Titanic




NEW – LOWER PRICE! 
Commemorative 0 Euro Banknote of RMS Titanic
For Collectors or as a Souvenir from Euronote Gifts  
This Commemorative 0 Euro Banknote of the iconic RMS Titanic is a recent addition to our collection of notes from Euronote Gifts. This is a LIMITED EDITION note, our most popular ever, and less than a third of those printed remain for sale! Experience Europe in a completely new way with our unique Commemorative 0 Euro Banknotes. They make perfect souvenirs, gifts or additions to a collection of travel memorabilia or foreign currency.
These beautifully crafted notes are now offered in the US through Euro Note Gifts. Each 0 Euro Banknote is exactly like a real bank note, except it has a €0.00 face value. It is printed on real, cotton bank note paper in a famous European printing house which is a partner company of the ECB. Every note features a watermark, copper stripes, hologram, transparent register, security background, invisible fluorescent ink and even an individual serial number that is unique to each note.  
Product Details
---
All notes are 135mm (5.31″) Wide x 75mm (2.95″) High. Image on back of note is same for all the notes. Serial numbers on notes will differ from image.  
IMPORTANT DELIVERY INFORMATION
---
Orders of up to 3 notes are sent using eBay tracked shipping. Larger orders will be sent USPS First Class with tracking. Our turnaround time is usually only day, but delays in the postal system are common. 
Please allow up to 10 days for delivery. If you have not seen your notes within that time, or if there is any other issue at all, please contact us!  
Terms of Sale
---
Please review the description and photographs carefully prior to placing your order, as we wish to present the most accurate possible presentation of the item on offer. Due to the light and screen differences, colors may differ slightly from the pictures. Please allow for small measurement errors due to manual measurement. 
Our goal is for you to be completely satisfied with the the transaction and your product. If you encounter any problems with the order or your note, please contact us immediately in order for us to address the issue. We offer a 30 day money back guarantee from date of shipment.  
Thank You!
---
Thank you for taking the time to view our listing!