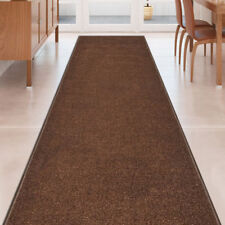 Price: 16199 USD
Custom Size SOLID BROWN Stair Hallway Runner Rug Non Slip Rubber Back




Highlight your hallways and stairs with our non-slip rubber back
runners. It only requires spot cleaning after a spill; otherwise,
vacuuming regularly will keep it looking like new.
Our runners come in 22inch or 31inch wide width options and you can choose your length up to 40 feet! The
tips/ends of the runners are serged/binded prior to shipping for free!
They are great addition to long hallways and stairs. The special rubber
backing is sufficient to prevent sliding as much as possible on
hallways. For the stairs, you can simply use double sided tape or
regular staples/mini-nails to secure them onto your stairs.

ACTUAL SIZE: Select-able from the menu


Machine woven loop texture with 100% nylon pile for long lasting
quality with vivid colors that won't fade away
With its stain, mold,
mildew, bacteria, soil resistant polypropylene material; it is also an
ideal addition to homes with kids and pets!


Efficient LOW PILE (1/4″) which does not add bulk to your floor
and great fit under most of the doors
Custom made in the USA – Great
for Events, Churches, Weddings, Aisles, Stairs, Hallways, etc.


Selectable Width and Length | The tips/ends of the runners are serged/binded prior to shipping for FREE!


EASY CARE: Vacuum regularly. Gently wipe away any soil or spill
with a wet washing cloth and a little detergent if needed. [We DO NOT
recommend machine washing our rubber back rugs because the pressure and
heat may damage the rubber backing. Our rugs are made of polypropylene
material which is naturally stain-resistant. You can easily wipe any
dirt or spills with a damp washing cloth and a little mild detergent if
needed.]
item keywords: custom size runner, custom size bath rugs,
custom size runner rug, custom size rugs, custom rugs, custom runners, runner
rug for hallway, runner rugs for hallway 2×10, runner rug hallway extra long,
long runner, long runner rug, extra long runner, 2×10 runner, 3×10 runner,
runner rugs with rubber backing, kitchen runner rug, runner rugs for hallway 3
x 8, runner rug in Home & Kitchen, runner carpet, kitchen mat, kitchen
runner mat, kitchen runners non skid, kitchen runners non skid washable, rubber
backed rug, rubber back rug, rubber back runner, non slip rug pad, non skid
rug, non skid rugs, non slip rugs, non skid runner, non skid runners, pet rugs,
pet rug, runner rug, runner rugs, entry rug, bathroom rug, living room rugs,
dining room rugs, kids rug, bath mat, bath rug, kitchen rug, kitchen runner,
kitchen mat, doormat, 2×5 runner rug, 2×7, 2×8, 2×10, 2×6, 3×10 runner, event
runner, event rug, wedding rug, aisle runner, church runner, wedding runner, red
carpet, red entry runner, Hollywood carpet, paparazzi runner, bridal rug,
photography rug, black runner, black rug, green runner, green rug, brown rug,
brown runner, yellow runner, yellow rug, pink runner, pink rug, teal rug, teal
runner, red rug, red runner, grey runner, grey rug