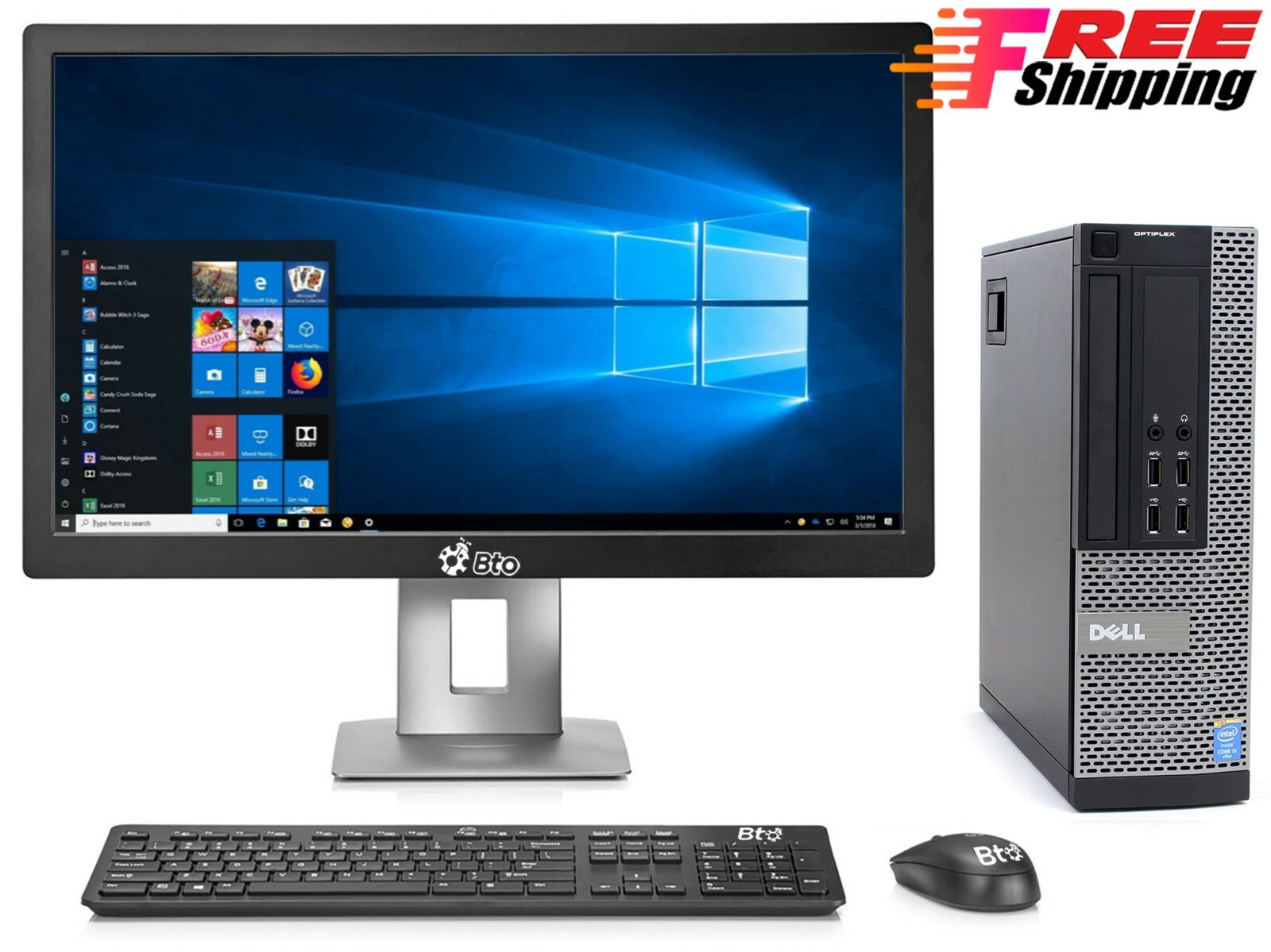 Price: 23999 USD
Dell Core i5 Desktop Computer PC 16GB RAM 512 SSD 1TB HDD 22″ LCD WiFi Win10 Pro




Product Description: –
Originally designed for heavy use in the corporate environment, this Dell computer has been Renewed with higher quality components than you'll find in typical off the shelf retail models. Perfect for business, home, and school, this computer has been professionally refurbished by SJ Computers. Every component is tested for full functionality to ensure years of ongoing performance and reliability. A fresh and authentic installation of Microsoft Windows 10 is performed with the new license digitally rendered in the PC for an easy and secure start upon first use.  
Detailed Specifications:
Type:
Business Desktop & Workstation
Model:
Dell OptiPlex Desktop Small Form
Processor:
 
Processor Model
Intel Core i5-3450 3.1GHz
Memory:
 
Standard Memory
8GB / 16GB
Memory Technology
DDR3 SDRAM
Storage:
 
Storage Capacity
256GB / 512GB / 500GB / 1TB / 2TB
Storage Interface
Solid State Drive / Hard Drive
Display:
 
Display Resolution
1920 x 1080
Display Interface
Lcd Monitor Screens
Display Ports, VGA Ports
17 inch / 19 inch / 22 inch (Brand may vary)
Graphics:
 
Graphics Controller Model
Intel HD Graphics
Ports:
 
USB 3.0 Ports
Yes
USB 2.0 Ports
Yes
VGA Port
Yes
DisplayPort
Yes
RJ 45 Ethernet Port
Yes
Software:
 
Operating System
Windows 10 Professional
Operating System Architecture
64-bit
Accessories included:
 
Power Cord
VGA cable
Brand New Keyboard
Brand New Mouse
Brand New Wi-Fi Adapter
Yes
Yes (with Monitor Only)
Yes
Yes
Yes
WARRANTY: 30 days
We stand behind our product 100%! Buy with confidence
About our items:
Every item is professionally tested, Cleaned, and packaged by a Team of Professionals at our facility to ensure 100% satisfaction.
We do guarantee that you will be pleased with the item.
Our Mission is simple, and that is to provide the highest quality products in lowest prices with free and fastest shipping.
Shipping:
We ship out all orders the same day when an order is placed before 4pm (CST). Mon – Fri.
Orders that are placed after 4pm (CST) will be shipped out the next business day.
Customer Support:
We only sell 100% tested items, but if you face any issue with our product, our technical team is available 24/7 at your service.
You are our valued customer, if you face any issue with the item you purchased from our store, contact us and let us make it up to you. So we could ensure the you are completely satisfied with your purchase and will do the needful if required.
Our technical team will do their best to resolve the issue as soon as possible.
If in case the issue with the product cannot be resolved, we provide 90 days replacement warranty.
Return:
If an item is having issues, We Provide a 30 days of Refund warranty. If an item is returned for not having any issue, we charge a restocking fee of 20%.
Damaged items, fried boards, Liquid Spilled, are not covered under warranty.