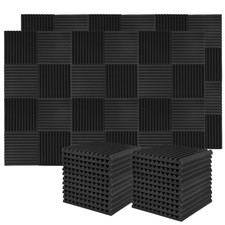 Price: 3799 USD
Donner 50-Pack Acoustic Wall Panels Studio Sound Noise Proofing Insulation Foam





Hard surfaces are really great at reflecting the sounds that hit them. This is what is responsible for the echoes in caves. Generally speaking, when recording or mixing, this effect is undesirable. The acoustic foam panels help to attenuate the high frequency reflections from nearby walls, making your recordings cleaner and mixing a lot easier. Donner soundproofing foam uses a new polyurethane sound-absorbing material, which is formed through a specialized foaming process and can greatly improve the sound quality in your room. Each piece of soundproofing foam is coated with flame retardant materials and passes the environmental protection test of SGS. This is a product you can trust.
Specifications:
Size:12in x 12in x1in (30cm x30cm 2.5cm)
Material:Polyurethane
Package Includes:
50 x Donner Acoustic Foam Panels
Features:
Sound absorption principle
Donner acoustic foam panels is full of fine voids and semi-open holes, which can absorb the high, middle and low frequencies of the sound, attenuate the sound, and lower the interference and reverberation of the sound reflected in the room to ensure the clarity of the sound.
Easy to install
Low-frequency standing waves are usually concentrated in the four corners, the sound-absorbing material is very suitable for sticking to the four corners of the recording studio
High-quality material
Donner acoustic foam panels are full of small voids and semi-open holes, which can absorb and redirect high and mid frequencies, attenuating their volume and reducing reflections.
Note
1. When you open the package and take out the panels, you may find that they have been compressed in transit. Do not worry, though. You can allow the panels to expand naturally over 24 hours or you can soak them in water for 2-5 minutes and then blow dry to restore their normal thickness faster.
2.When using spray glue to attach the panels, make sure the wall is flat and clean.
Donner has several warehouses in New jersey, California and Kentucky to ensure that our customers can receive the goods in 2-7days. And we offer free shipping with all items!
Usually we ship within 2 business day after receiving the clearing payment. We do offer Expedited shipping methods.
Note: Due to shipping policies restrictions, Donner is unable to ship to Alaska, Hawaii, US Protectorates and APO/FPO address.