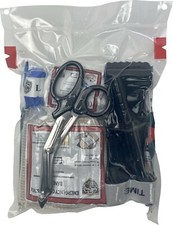 Price: 6000 USD
EMERGENCY INDIVIDUAL FIRST AID KIT – IFAK – NEW – VACUUM SEALED – $85 VALUE!




CUSTOM INDIVIDUAL FIRST AID KIT
STAND ALONE OR REFILL
HIGH QUALITY PRODUCTS ONLY!
$85 RETAIL VALUE!
This IFAK was put together by an 18-year veteran of
the US military.  It has all the basic
components of an individual first aid kit and a cost-effective option to be
prepared.  The kit comes in a vacuum
sealed that can be used as a stand-alone kit, or you can place the kit
components into a bag of your choice.
The kit is filled with TOP QUALITY medical gear from
H&H Medical company.  This company
provides medical equipment to militaries around the globe and is known for
their exceptional quality and products. 
I used this equipment myself as a US military medic serving
overseas. 
If you were to purchase these contents individually,
they would cost more than $85 plus shipping!  
Contents include:
1 x Emergency Medical Tourniquet ($29.99)
1 x H&H H-Bandage 8"x10"
($12.27)
1 x Compressed Cotton
Gauze ($2.99)
1 x Occlusive Chest
Seal ($12.59)
1 x Nasopharyngeal Airway
w/ surgilube ($6.99)
1 x Medical
Tape ($3.33)
1 x Nitrile Medical
Gloves, Large  ($0.99)
1 x 5 1/2" Medical Trauma
Shears ($5.99)
1 x TCCC Casualty Card ($1.00)
1 x Quick Reference
Treatment Pamphlet ($3.00)
I have a 100%
satisfaction rating with over 1000 sales to date!  Purchase with confidence!