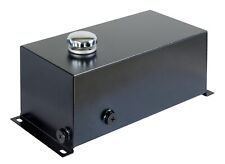 Price: 10672 USD
Field Tuff FTF-05GOR 5-Gallon Hydraulic Reservoir, Black




o   Field Tuff's 5-Gallon Hydraulic Reservoir has a
capacity of 5 gallons. This reservoir has a 1 ½" NPT suction port, a ¾" NPT
return port, and a ¾" NPT drain port. It also has an inlet port with a breather
cap. It features a 150-micron filter to prevent oil contamination, extending
the life of your equipment. The Hydraulic Reservoir is constructed of 14-gauge welded
steel with a durable, powder-coat finish to give you a long-lasting product. The
included mounting flange on both ends allows for secure and easy transportation
for the reservoir. This Field Tuff product provides a secure holding tank for
hydraulic fluid. The reservoir measures 19.9" x 8.75" x 8.25" overall and can
be used for a wide variety of applications including a log splitter and other
mobile applications. 1 year limited manufacturer's parts warranty.
o   Capacity of tank: 5 gallons
o   Port sizes: suction port 1 ½" NPT, return port ¾" NPT,
and drain port ¾" NPT
o   Contains an inlet port with breather cap
o   Features a 150-micron filter to prevent oil
contamination, lengthening the life of your equipment
o   Constructed of 14-gauge welded steel with a durable,
powder-coat finish
o   Includes a mounting flange on both ends for secure and
easy transportation
o   Provides a secure holding tank for hydraulic fluid
o   Measures 19.9" x 8.75" x 8.25" overall
o   Can be used for a wide variety of applications
including a log splitter and other mobile applications
o   1 year limited Manufacturer's parts warranty