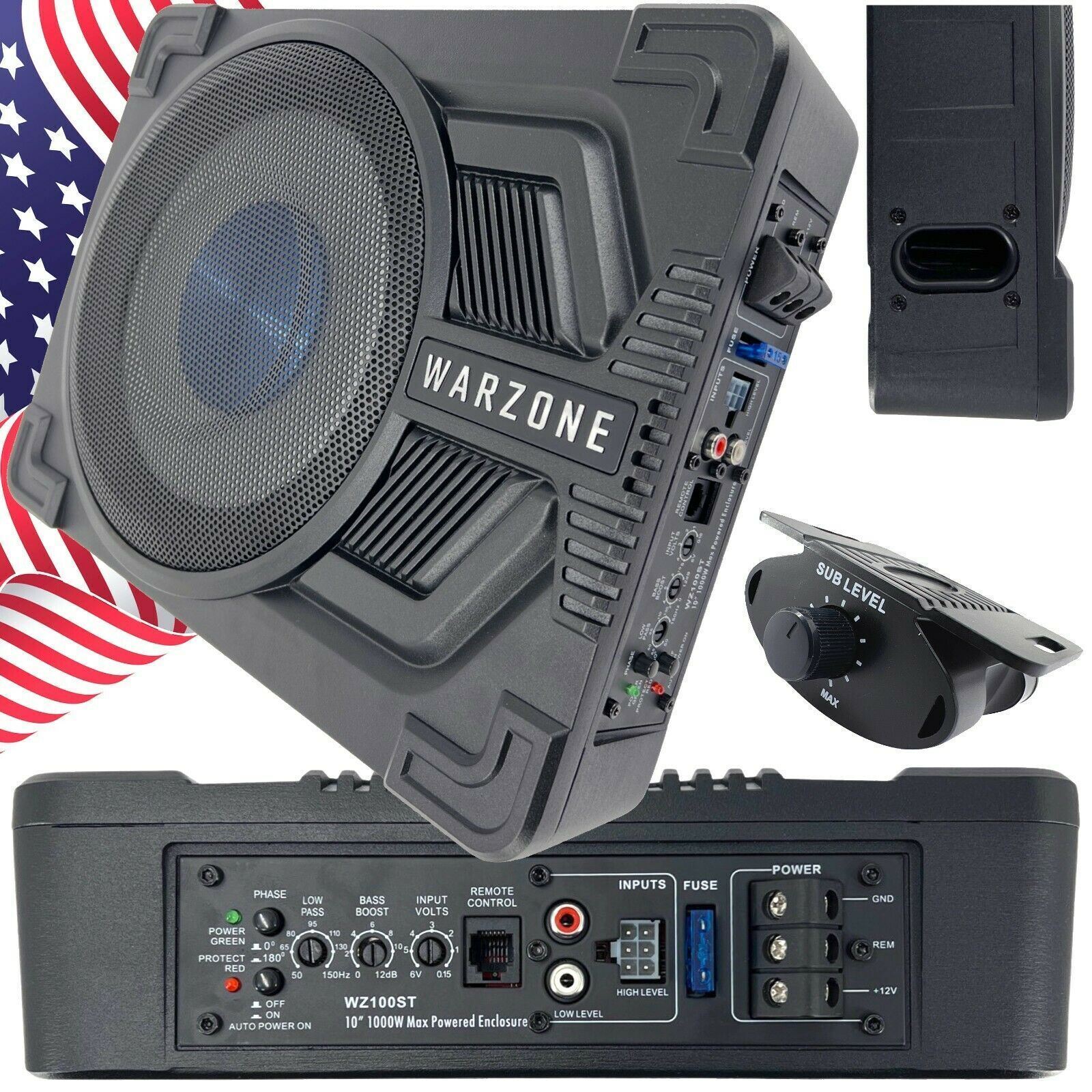 Price: 12999 USD
Gravity Warzone 10″ 1200W Compact Under Seat SLIM Powered Subwoofer Enclosure




What we sell?
Genuine Brand NEW
 Gravity Warzone WZ100ST 10″ Pro Audio Active Aluminum 1000 Watts Subwoofer Powerful Loud Speaker
Product Highlights: 
Most cars do not have a lot of extra space that can be used to position subwoofers. However, just because the space isn't readily available does not mean you have to sacrifice the quality of the music in your car. You go out and get yourself an under seat subwoofer.
An under seat sub is a small subwoofer that comes with an in-built amp, housed in one compact body. This clever design is perfect when it comes to installing a subwoofer for your vehicle, as it eliminates the need for you to get a woofer, pair it with a separate amp and then wire them up as best as you can.
The best place to install a small powered subwoofer would be under the driver's or passenger's seat, behind the back seat or in the back seat. This will depend on your type of car.
Finding the perfect under seat subwoofer for your car can be an uphill task, what with the numerous models available in the market today. Don't fret though; I got you. 
10″ Compact SLIM Subwoofer with Vented Ported Design
High density and high quality construction
Phase shift to compensate for time alignment problem in the system
Auto power on/ off for high level connection
Low pass filter controls the frequency range
Bass boost increases the sound level with Wire Remote Control
Technical Details: 
Single 10″ High Quality Subwoofer
Power: 1000 Watts
Frequency Response: 50Hz- 150KHz
Signal to noise ratio: 90dB
Low Level Input: 100mV-6V
High Level Input: 1V-8V
Subsonic filter: 20Hz fixed
Passive radiator: 185x52mm
Dimension (L x W x H): 13.6″ x 10.3″ x 3.2″
Package Contents: 
WZ100ST 10″ 1000W Subwoofer
-> All Accessories need to install into your car.
Policy  
// NEED TO PRICE MATCH?
See lower price? We will try to give you an even lower price! Just ASK us!
// NEED TO TALK TO US?
Just email us and we will get back to you within 24 hours
// NEED TO RETURN or EXCHANGE?
You can return the unit with eBay Easy Return step or just email us and we will tell you the exact instruction on how to return the unit.  We will also give you an RA# so the unit won't be lost.
// OUR RETURN / EXCHANGE POLICY
30 days full refund . We will pays for shipping 2-way for any defective units . Unwanted? Just return it to us for full refund . NO QUESTIONS ASKED!