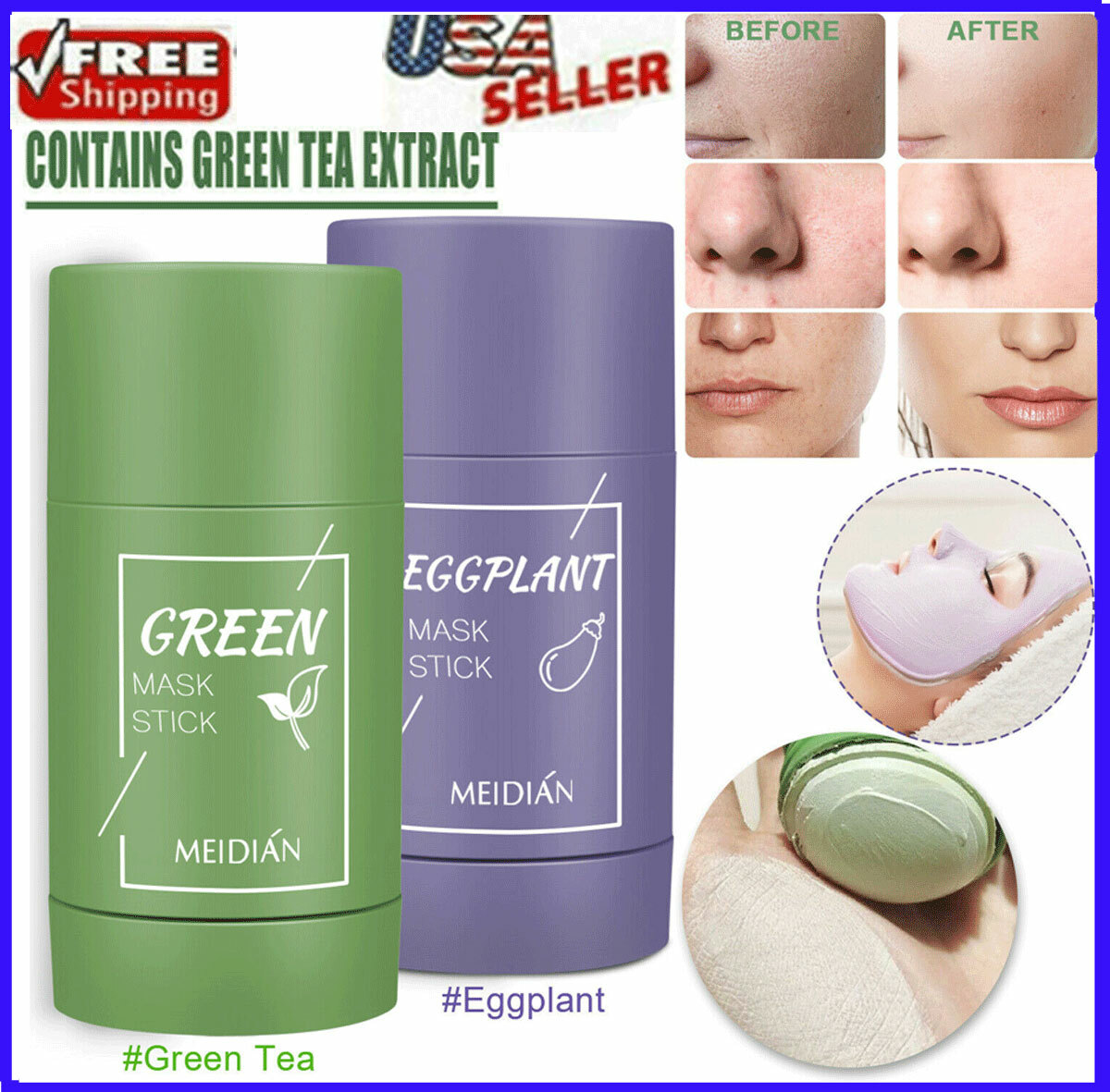 Price: 1199 USD
Green Tea Clay Mask Stick Purifying Facial Deep Cleansing Blackhead Acne Remover
Acne Cleansing Solid Mask / Mask Stick
Specifications:
Applicable people: general
Skin Type: General
Net content: 40 g
Shelf life: 3 years
Product color: green (green tea), purple (eggplant)
Green Tea Mask Ingredients: Water, Propylene Glycol, Glycerin, Titanium Dioxide, Kaolin, Isoceteth-20, Butanediol, Sodium Hydroxide, Stearic Acid, Tea(CAMELLIA SINENSIS) Leaf Extract, Disodium EDTA, Chromium Oxide Green, Glycyrrhizic Acid Dipotassium, Tocopherol(Vitamin E)
Eggplant Mask Ingredients: Water, Propylene Glycol, Glycerin, Titanium Dioxide, Kaolin, Isoceteth-20, Butylene Glycol, Sodium Hydroxide, Stearic Acid, Solanum Melongena Fruit Extract, Disodium EDTA, CI 77742, Diglycyrrhizinate Potassium, Tocopherol(Vitamin E)
Features:
1. Adopts the design of rotating head, which is more convenient to use and not easy to dirty hands.
2. Fine and smooth, easy to spread and easy to apply, easy to wash,  improve balance of water and oil, non-irritating to restore the brightness back into your skin to reveal your true beauty.
3. The green tea solid cleansing mask contains green tea extract, which can effectively clean the skin pores, deeply clean up skin dirt, adjust the skin's water and oil balance, replenish skin moisture, and nourish the skin.
4. Eggplant solid acne facial mask contains eggplant plant extracts, which can effectively relieve the growth of facial acne and reduce the formation of acne.
5. Effectively reduce blackheads, control oil, improve facial dullness, and brighten skin tone.
6. Small and light, easy to carry.
7. Suitable for all skin types.
8. It is suitable for carrying out at home, travel, business trip, etc.
 HOW TO USE: 
After cleansing and toning, open the product to remove the transparent protective cover, rotate to push out an appropriate amount of paste, and evenly apply on the face, avoiding the eye area and lips, wait for 10-15 minutes, and then rinse with water.
 NOTE: 
1. Before using a new skin care product it is recommended that you try a small amount on the skin behind the ear or the inner arm of the arm. If there is an abnormal reaction, it is recommended to stop using it. 
2. Store it at room temperature and avoid light, and place it in a place out of reach of children. 
3. Do not use for children under three years of age.
Kindly Noted:
Some potential side effects may temporarily cause burning sensation, burning, or skin irritation to certain individuals or skin-types. These possible side effects vary from one person to another. 
Please review all ingredients for possible skin sensitivity/allergies before using the product. Immediately discontinue use if any adverse reaction occurs.
CAUTION:
1. Store in a cool place and avoid sunlight.
2. During use, please stop using if you feel any discomfort.
3. Please keep out of the reach of children.