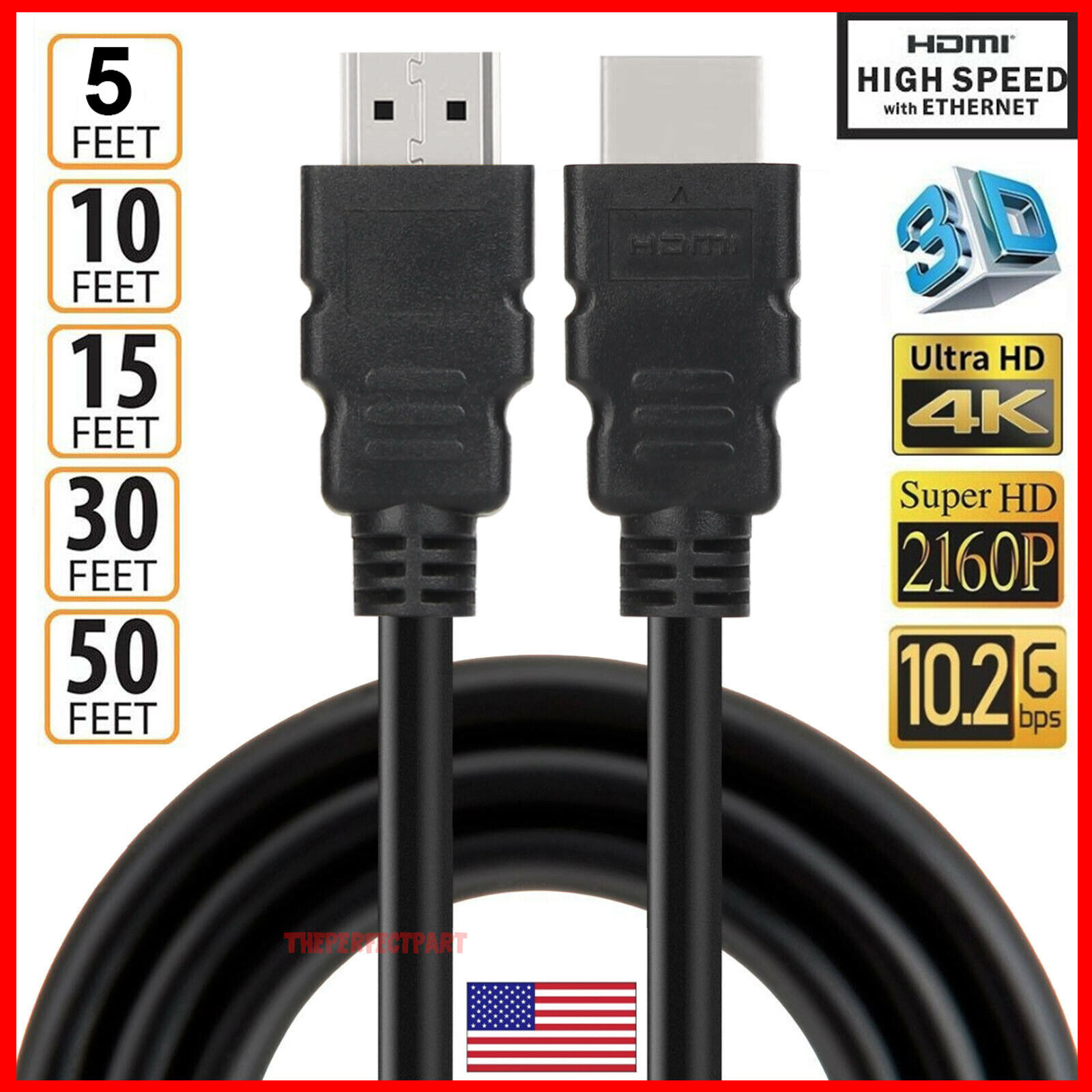 Price: 889 USD
HDMI Cable 1.4 4K 3D HDTV PC Xbox ONE PS4 High Speed Plug 5 10 15 30 50 FT FEET
Connectivity 
High Speed HDMI Cable with Ethernet is perfect for all your HD audio/video needs. HDMI is the most popular standard for connecting devices to HD displays and HD audio devices. Connect your DVD players, Blu-ray players, Roku, Apple TV, PS3, PS4, Xbox 360, Xbox One, Wii U, Nintendo Switch, desktop computers, laptops, tablets, cable boxes, or any other device with an HDMI port to your TV, monitor, display, A/V receiver, and more.

Category 2 Cable, Supports up to 4K (2160p) Resolution 
High Speed HDMI Cable with Ethernet is a category 2 cable, meaning higher resolutions of up to 4K@30Hz/2160p@30Hz are supported. Category 1 supports up to 1080i, only 25% of the total pixels in 4K resolutions. HDCP is supported.

HDMI Features from the Latest Specifications 
This cable supports the latest HDMI specifications and their features, such as 3D, CEC, ARC, Deep Color, Dolby TrueHD bitstream capability, DTS-HD Master Audio bitstream capability, and more provided that both the input and output devices support the respective feature.
Gold-Plated Connectors 
Gold-plated connectors help resist corrosion and reduce tarnish to provide the highest signal transfer rate. Molded strain-relief design helps less plug/socket pressure for extra durability.
Specifications 
30 AWG
10.2 Gbps total TMDS throughput
Up to 4K resolution
High Speed with Ethernet, Category 2
Gold-plated connectors
HDCP Support
Features: