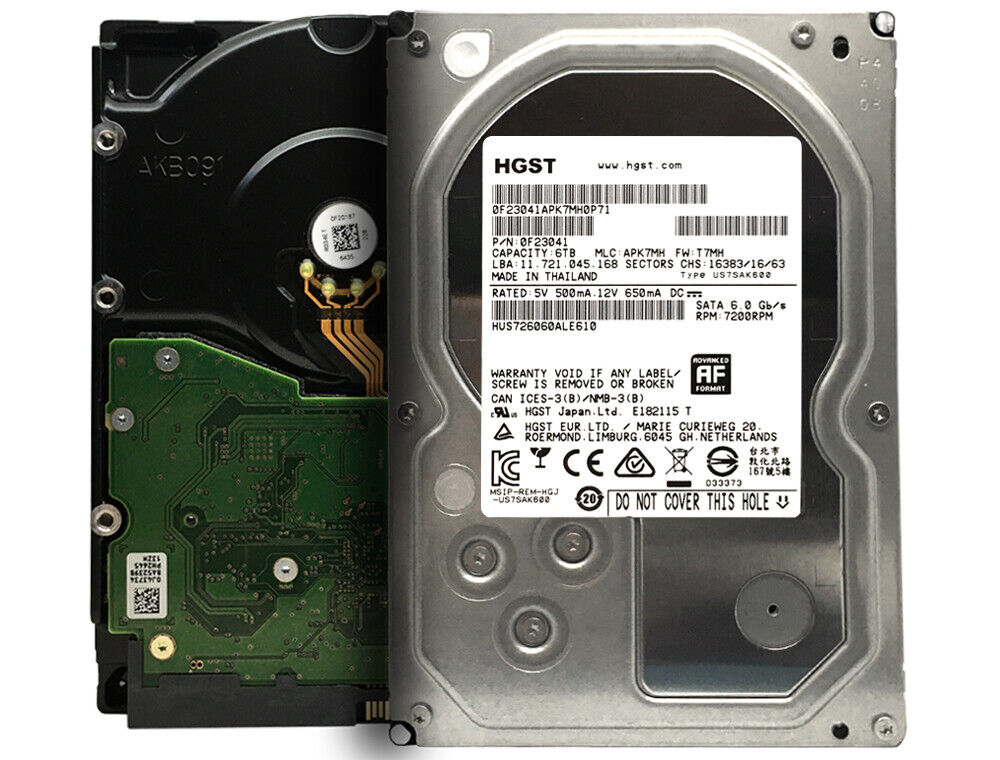 Price: 5899 USD
HGST Ultrastar 7K6000 HUS726060ALE610 6TB 7200RPM SATA 6.0Gb/s 3.5″ Hard Drive






GOHARDDRIVE INC
ONE STOP HARD DRIVE 
WHOLESALE & RETAIL

Product 
Description


[ G01-1345-CR-3YR ] HGST Ultrastar 7K6000 HUS726060ALE610 (0F23041) 6TB 7200 RPM 128MB Cache SATA 6.0Gb/s 3.5″ Enterprise Hard Drive (Certified Refurbished) – 3 Year Warranty
When you are looking for economical, high-capacity
enterprise-class storage, look to the Ultrastar® 7K6000. Designed to
handle workloads up to 550TB per year, it delivers the value and
performance you need for data center storage. With outstanding random
write and sequential performance, the Ultrastar 7K6000 delivers 6TB of
capacity in a 3.5-inch form factor. Innovations like patented Rotational
Vibration Safeguard (RVS) sensor technology optimize drive reliability
in multi-drive RAID arrays and rack-mounted systems. Engineered for the
highest quality, the Ultrastar 7K6000 passes stringent reliability
testing. The ultra-reliable Ultrastar 7K6000 reduces downtime,
eliminates service calls and minimizes TCO. Rely on the Ultrastar 7K6000
to deliver value and performance to the cost-sensitive data center.
Increasing Capacity Density by 50%
As petabyte (PB) growth continues to increase at a
rapid pace, corporate and cloud data centers are under extreme pressure
to improve the e iciency of storage. To address this data center
challenge, HGST introduces Ultrastar® 7K6000, delivering up to 6TB of
capacity in an industry- standard, 3.5-inch hard drive, for
capacity-optimized enterprise applications. Ultrastar 7K6000 provides
50% more capacity and 30% better power e iciency in terms of Watts per
terabyte (W/TB) than its predecessor, Ultrastar 7K4000. The 7K6000 is
designed for all traditional
and rapidly growing scale-out storage applications,
including object, block and file storage architectures, providing huge
capacity, fast 7,200 RPM performance and economical $/TB acquisition
cost.
 

Technology Innovation Improves Storage Efficiency
Ultrastar 7K6000 also delivers greater storage e
iciency through high performance, achieving
up to 3X higher random write performance, thanks to
HGST media cache architecture, a disk- based caching technology, which
provides a large non-volatile cache on the disk. Media
cache also allows for improved reliability and data
integrity during unexpected power loss.
Other performance-enhancing features include higher
areal density for 25% faster sequential performance vs. 7K4000, and a
128MB cache bu er. Designed to handle workloads up to 550TB per year,
Ultrastar 7K6000 o ers a 12Gb/s SAS (6Gb/s SATA) interface for easy
integration into high performance data centers. As drive capacities
increase, so does the time required to recover a failed drive in a RAID
configuration. Dramatically reduce RAID rebuild times and maintain
system performance during the rebuild process with the new Rebuild
Assist. Learn more in our Rebuild Assist technical brief. For legacy
systems that require native 512 formatting, models are available at 4TB
and 2TB capacity points.
Data Security with Trusted Quality, Reliability
Compliance and privacy requirements drive the need
for increased data security. Ultrastar 7K6000 helps protect data from
unauthorized use by o ering security and encryption options. Instant
Secure Erase (ISE) models expedite drive redeployment and retirement.
Encryption models protect data with hardware-based encryption, including
a Trusted Computing Group (TCG) Enterprise_A, TCG with FIPS 140-2
certification, Level 2. The Ultrastar 7K6000 is a seventh generation,
5-platter design, field proven by top server and storage OEMs, and
Internet giants, and extends HGST's long-standing tradition of
reliability leadership with a 2M-hour MTBF rating
Key Advantages/Highlights
Excellent
random & sequential performance
Reliable, field-proven, 7th generation 5-disk
design
Compared to prior generation 7K4000 —50% more
capacity (6TB ) —30% better power efficiency


(Watts/TB)

—Up to 3X faster random write performance using
media cache technology
—25% faster sequential read/write performance
6Gb/s SATA compatible with next


gen data centers

128MB cache
bu er improves response time and data management
InstantSecureErase(ISE)&Self-Encrypting Drive
(SED) options
Advanced format 4Kn and 512e models up to 6TB
Applications/Environments
Cloud &
Hyper scale storage
Distributed Files Systems like CephTM
and Hadoop® to support Big Data
Analytics
Video surveillance & content distribution
Direct & Network Attached Storage (DAS & NAS)
RAID arrays
Massive scale-out data centers (MSO)
Features:

Capacity: 6TB (6000GB)

Buffer: 128MB Cache

Rotation Speed: 7200RPM

Interface: SATA 6.0Gb/s
Built
on award-winning proven design

Enterprise Grade 3.5″ Hard Drive

Specification:
 
Manufacturer



HGST

Manufacturer Part #

HUS726060ALE610 (0F23041)

Data Storage

Formatted Capacity

6TB (6000GB)

Data Transfer Rate

To/From Media

600 MBps

Buffer

128MB Cache

Seek Time

Average

8.9 ms

Rotational Speed

7200RPM

Interface

SATA III 6.0Gb/s
Dimensions
(H x W x D)

Unit

4 in x 5.8 in x 1 in

Weight

Unit

1.3 lbs

Warranty

3 Year Warranty

Includes in the Box

Sealed Bulk Pack
Payment Policy
We accept Paypal only.
Paypal payment: We only ship to CONFIRMED ADDRESS in paypal.(Prevent Fraud)
If need to ship by alternate address please make sure your alternate address is confirmed in Paypal.
Payment has to be received within 3 days
of purchase.
If shipping address is in California, a 9.25%
sales tax will apply.
Wholesales or Reseller are welcome!

Shipping Policy
We ONLY sell & ship within USA, if you checkout the package ship to US address, and re-export the package out of the country, you will need to take the full responsibility of the risk for package damage or defective item. And you will need to pay for International return shipping fees. We need the item back in order to issue refund/replacement.

Please refer to the Shipping and handling section for shipping quote.
Usually your order will be processed &shipped with 24-48 hours by UPS or US Postal Service.
Tracking # will be updated on your Paypal transaction once package has been shipped.
Please check your Paypal before email for tracking# request.
We DO NOT ship International order (due to many international package shipped lost and no insurance claim), except ship to Canada only.
Yes, We ship to PR, Guam, Saipan, APO, FPO, DPO with USPS rate.

Returns Policy
A. Warranty


Warranty coverage does NOT included the cosmetic damage of the product.
If products with direct manufacturer warranty, please contact manufacturer
directly.
Please refer to the product description page for warranty coverage period.
Product has a 1 Year Warranty. To obtain a copy of the warranty, please contact us.
White Label/Generic products' warranty is covered by our company.

B. Defective Item

Contact Product Manufacturer for tech
support or defective exchange
If White Label/Generic Products, Contact us for tech
support or defective exchange
Contact us by eBay Message to
submit and request RMA number.
Return item must be received within 14
days after RMA Number is issued.
Return item must be attached with
original invoice and original retail box, also write down RMA number on
the carton box.
Package will be rejected if without RMA #
Defective item will be replace with a
new item only.
Customers are required to pay for
shipping fees for return products.
If returned item tested to be non
defective, customers need to pay for extra shipping rate for re-ship
package.

C. Return Item

If you have re-exported the package out of the country, you will need to pay for International return shipping fees to return the 
package to us. We need the item back in order to issue refund/replacement.
Contact us by eBay Message to submit and request RMA #.
Returned item are subject to charge a
15% restocking fees for cancel order or refund.
Refund selling price only, shipping
and handling will NOT be refunded in ANY situation.
Items returned without RMA number or
after 30 days will NOT be accepted or processed.
Terms
Please make sure your PayPal account is active, and payment without problem.
Do not bid/checkout if you not intend to purchase or when you not sure about the product specification.
Please understand we have limited control once the package leave our warehouse, We will help to claim for damaged package during the shipment. But we are NOT responsible for any package that lost in your front door or tracking# has proved "DELIVERED".
We suggest you to check your PayPal for updated tracking # and keep track the package arrival date to avoid stolen or missing package.
Check with your neighbor if you didn't receive the package if the status shows DELIVERED, in many cases, it might delivered to your next door.

Guarantee
100% Satisfaction Guarantee! If not, please 
contact us by eBay message, we will resolve your problem right away!
 
About Us

goHardDrive has the resources to get you what you need, when you need it – along with the culture of customer care that will make it an enjoyable, hassle-free experience. We guarantee it.

goHardDrive was established to serve the needs of computer users, we are serving with best quality of services and lowest price on computer products. goHardDrive is headquartered in La Puente, California. It is a direct-to-consumer e-Commerce site specializing in providing computer-related excess inventory, manufacturer-closeouts, high-demand and unusual computer components and peripherals at highly-discounted prices to you! But our success has been built on a simple principle: take care of every customer like they were a member of our family. Our call center staffs always trained to answer your questions, make recommendations and deliver best solutions for your PC.

Just because we offer the always lowest prices doesn't mean we skimp on service. In fact, it is because we take care of our customers and you continue to support us with your business, that we're able to use our buying power to get you the best deals. And we intend to continue serving you. Every day!