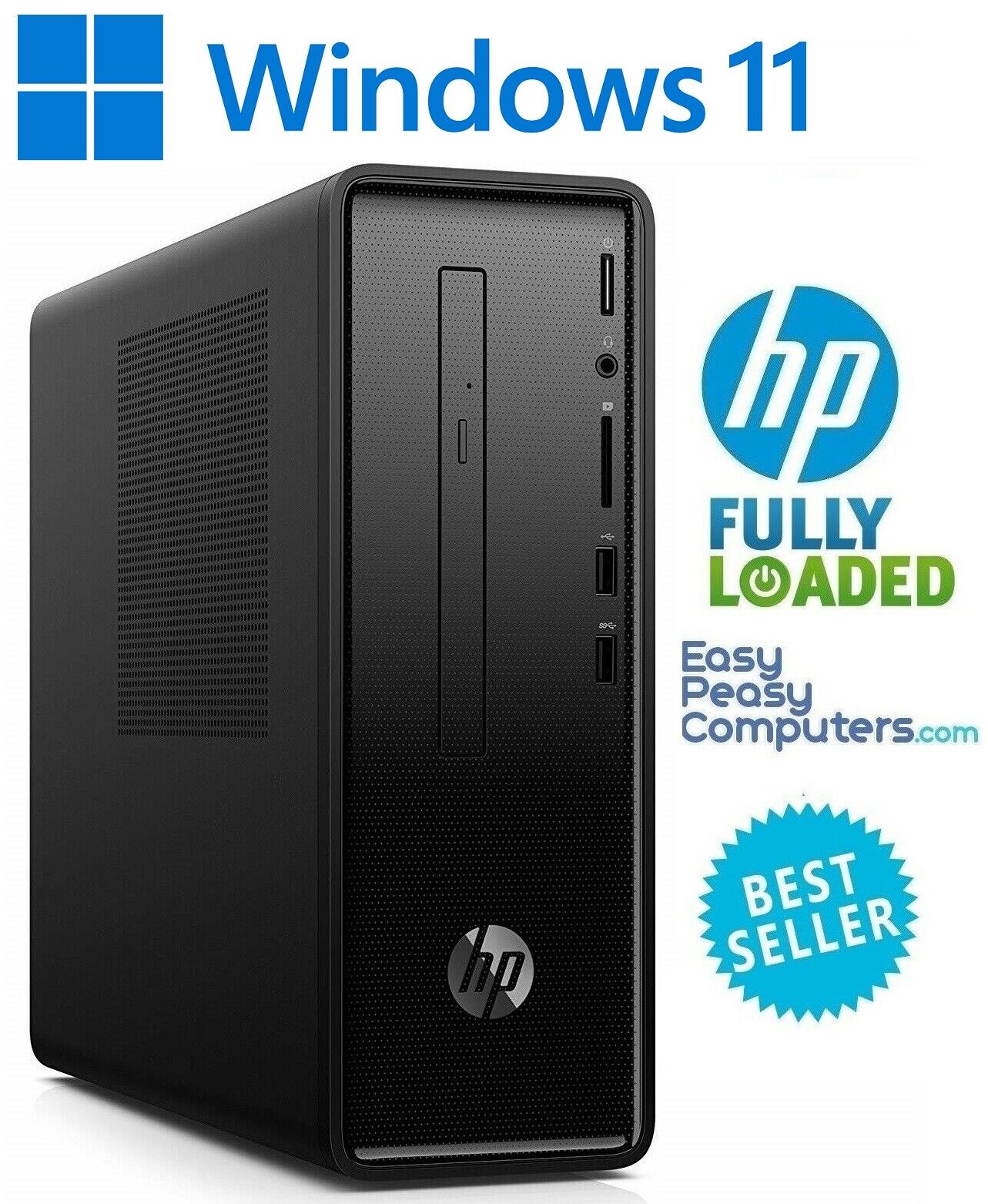 Price: 39900 USD
HP Desktop Computer Windows 11 16GB 1TB Bluetooth DVD+RW WiFi (FULLY LOADED)
HP Computer Windows 11,Intel, 16GB RAM, 1TB HDD, HDMI
CD+DVD Burner, WiFi , Bluetooth, SD Reader.
(FULLY LOADED) 
How would you like your next computer to be Plug N Play and Fully Loaded? A computer that requires no setup at all. Why waste time trying to figure out how to setup a computer when we have done the work for you!. EasyPeasyComputers has taken the time to configure this computer for home, school or work. We want to make your life easier!
 
Our company has partnered with Apache Open Office and other vendors to provide you with a plug and play computer that includes all the right tools and software. We are a trusted and reliable seller. Join hundreds of happy customers who have left us positive feedback. Buy with confidence today, you won't regret this purchase!
Product Highlights:
        Windows 11 (Easy to use Windows 11)
        Apache Open Office Suite (Write Documents, Work on Spreadsheets, Create Presentations and more.)
        Antivirus Protection (Stay protected against viruses)
        CD/DVD Burner (Burn data or music anytime.)
        Spyware Killer (Scan your computer and kill spywares anytime.)
        Multiple Internet Browsers (Browse the web using the best web browsers.)
        Picture Organizer (Organize pictures and more.)
        Recover Files (Recover Deleted Files)
        Junk Cleaner (Clean junk from your computer, avoid paying technicians)
        Wireless WiFi & Bluetooth Ready (Connect to your WiFi network at home)
        DSL & Cable Ready (Connect to the internet via Ethernet cable)
        PDF Reader (Open PDF files, invoices, eBooks, guides and more.)
        Zip File Reader (Compress heavy files to send via email)
        MP3 Player (Play your MP3 songs on your PC)
        Video Player (Play movies, DVD's and much more..)
        Sync IPhone (Transfer pictures and music to your IPhone.)
        Cloud Storage (Take your files anywhere, store in the cloud)
        Defragmenter Utility (Auto defragment hard drive, avoid paying technicians)
        6 USB Ports  (Connect your printer, iphone, mp3's, camera, fax, etc)
        1 Terabyte of Hard Disk Space (Plenty of space for files, pictures and music)
        Speaker Input Connection (Connect your computer speakers)
        Keyboard & Mouse included.    
Note: Our Computer Engineers hold several IT certifications such as: (MCSE) Microsoft Certified Systems Engineer, (CCNA) Cisco Network Professional, Comptia A+ and more..

Product Features:
The perfect home computer: with this space saving desktop, your family can surf, stream, work and play with all the power they need

Intel Processor, dual core, 3.40 GHz

Hard Drive: 1 TB 7200Rpm SATA hard drive

Memory: 16 GB DDR4 1866 SDRAM (upgradable to 32 GB)

Keyboard and Mouse: USB wired Keyboard with volume control and optical mouse

Ports: headphone/Microphone combo, 2 USB 3.1 Gen 1 (front), 2 USB 2.0 (rear), 2 USB 3.1 Gen 1 (rear), HDMI out (rear), VGA (rear), 10/100/1000 Base T network, and an HP 3 in 1 media card Reader

Operating System: Windows 11 Home