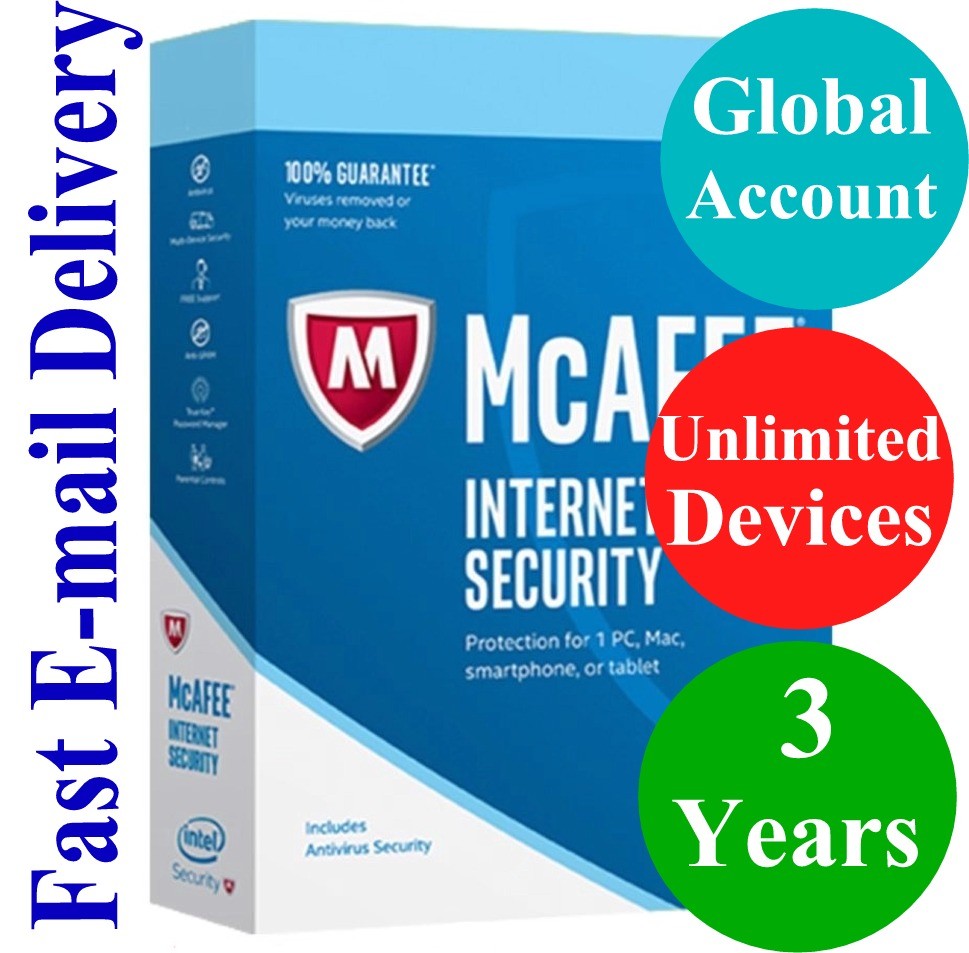 Price: 3999 USD
McAfee Internet Security UNLIMITED DEVICE 3 YEAR (Account Subscription) 2021
McAfee Internet Security UNLIMITED DEVICE 3 YEAR (SUBSCRIPTION) NO KEY CODE!!!

NOTE: You will receive an Official McAfee Account info (Username and Password), there will be no key code
THE SOFTWARE IS DOWNLOADED VIA THE INTERNET
>>>  DESCRIPTION  <<<
Compatible with PC/Mac/Tablet/Mobile
Protects Unlimited Devices
Optimises Device Performance
Includes Personal Firewall
Free AntiVirus/WebAdvisor Tool
Anti-Spam/Anti-Phishing Protection
Password Manager – 1 User
Secure Payments
Shop, pay and manage your finances securely, entirely risk-free
Prevent Data Theft
Browse safe in the knowledge your data will never be compromised
Ad Blockers
Prevent pop-ups from hampering your time online
Customised protection
Guard against threatening activity – customise the level of protection to your needs
Control network access
Monitor what information travels between devices on your network
Sophisticated filters
Block suspicious incoming internet traffic and programs trying to steal your data
Malicious app block
Block malicious applications trying to send your personal data over the internet
Phishing protection
Auto-detect emails trying to expose you to malware or trick you into giving away your data
Anti-spyware
Stop spyware infecting your devices and sharing your data with third parties
Anti-spam filtering
Prevent unsolicited emails from reaching your inbox
Safe search with SiteAdvisor
Protected mode
Protect a limitless number of devices for you, your family and friends
Site rating
One security solution for your desktop, tablet, mobile and wearable technology
Social media protection
Secure all your devices from one simple-to-use console
Secure search
Just one subscription covers all your security needs
Biometric login
Sign in without passwords – log in with facial recognition or fingerprint.
Password locker
Store your passwords locally on your device and sync them to your profile.
Secure auto-login
Log in automatically – True Key enters your login details and password for you
Fully synchronised
Automatically synchronise your passwords across your devices using your profile.
Back up, restore and wipe
Remotely back up, restore or wipe your personal information from a lost mobile phone
Locate your mobile
Locate and lock your lost mobile phone using your centralised McAfee account
S.O.S
Get an emergency location update from your lost phone when its battery runs low
CaptureCam
Have your stolen phone's location sent to your account, along with a photo of the thief
Malicious app protection
Prevent unlawful installation of malicious applications on your mobile phone
App privacy protection
Control what personal data and device functions an app can access and change
App lock
Lock your apps with PIN codes to restrict access to others using your device
Memory cleanup
Close unwanted background apps to free up memory, improve speed and save power
Speed award
2015 speed awards – highest rating. See the awards
New simple interface
Intuitive interface optimised by device, giving you instant access to all security features
Custom scheduling
Schedule regular scans for your devices and their disks and folders
Faster scans
Scan apps and files in 60 seconds and ensure your PC is protected
>>>  SYSTEM REQUIREMENTS  <<<
Operating System
Microsoft Windows 10, 8.1, 8, and 7 (32- and 64-bit)
Mac OS X 10.11 or later
Google Android smartphones and tablets 4.1 or higher
Apple iOS 9 or later
Internet Connection Required 

High-speed connection recommended
Supported Browsers 

Internet Explorer 10.0 or later
Firefox
Google Chrome
Safari (Mac and iOS OS Only)
Hardware 

2 GB RAM for Windows 7 and above
500 MB free drive space
1 GHz Processor
Supported Email Programs for Anti-SPAM 

POP3—Windows Mail, Outlook, Netscape, IncrediMail, Thunderbird, Becky, Shuriken
MAPI—Outlook 
Web—MSN/Hotmail or email account with IMAP/POP3 access
Required for Anti-Spam Toolbar 

Microsoft Outlook 2007, 2013, 2016
Thunderbird 38.0+
McAfee Anti-Spam also supports other POP3 email clients (without SSL) and web accounts
>>>  DELIVERY  <<<
Important: No delivery by post, CD/DVD DISKS OR BOXED products.
You will receive official McAfee account (username and password) with a subscription starting on the order date
Sent To The e-Mail in 24 hours of purchase ✔ Software Download ✔

>>>  HOW TO USE THE MCAFEE ACCOUNT (SUBSCRIPTION)  <<<
Go to McAfee official website by accessing  https://home.mcafee.com

Click on My account

Login with your McAfee account.

Click on Download to install on the current device or send link to send it to another device by email.

Your device(s) is now protected.
>>>  RETURN POLICY  <<<
We assure You, that You get genuine code.
Its One Time Use Code, So Once When Delivered Can't be Returned
If the  Activation Code does not work we are glad to change it
>>>  INFORMATION  <<<
If you have any questions, please do not hesitate to ask. And we will provide you more information.