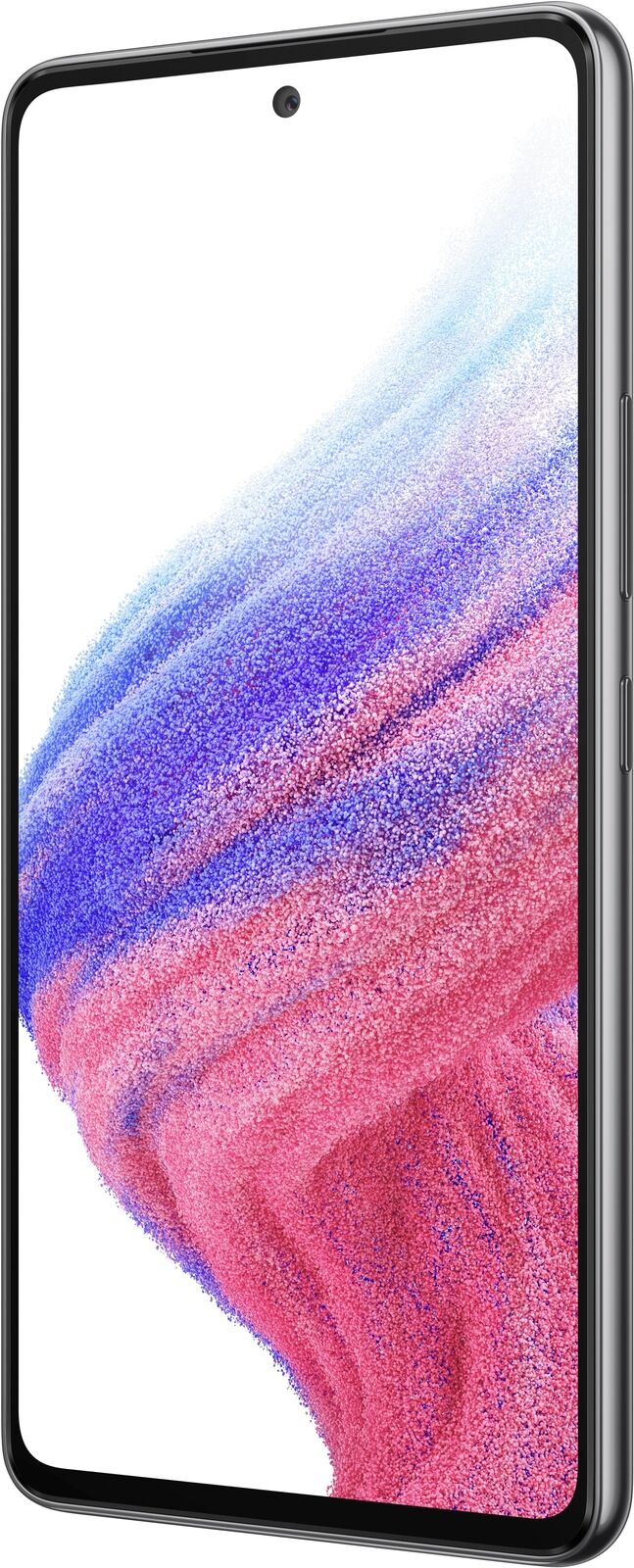 Price: 29999 USD
Samsung – Galaxy A53 5G 128GB – 6.5 inch Awesome Black (Verizon) Unlocked




Description:
Indulge in 6.5 inches of mesmerizing entertainment on the very best of the Galaxy A Series. Experience an FHD Super AMOLED screen for a crystal-clear view, stereo speakers for a surround sound feel, and a long-lasting battery for streaming your favorite content. Plus, keeping up with your people is virtually lag-free. Everything you love, all in one.
Features:
Long-lasting battery
Your busy life deserves a battery built for busy. Whether you're taking a video call on your commute, catching up on your favorite show or with friends and family, your long-lasting, super-fast charging battery¹ has your back.
Powerful performance
The very best of Galaxy A Series gives you awesomely smooth streaming of your favorite content with the most powerful performance in its series and awesomely fast speeds to download shows and movies — all at the speed of 5G.²
Expandable storage
Galaxy A53 5G³ gives you the storage to be sentimental. The biggest built-in storage in A Series lets you enjoy more memories and entertainment.
With an additional 1TB of expandable storage with a microSD card⁴, you can hold on to every smile and relive every epic vacay, right in the palm of your hand.
Intelligent camera
Capturing content is as easy as pose, shoot and share with A53 5G's³ intelligent camera. Single Take⁵ lets you capture video, pictures and more with just one tap, while image stabilization technology makes sure every clip is crystal clear.
Infinite display
Whether you're streaming short videos or kicking back to complete a whole series, the Galaxy A53 5G³ Super AMOLED display⁶ is built to keep you entertained, with incredible color clarity that translates into awesome resolution.
Privacy and security
Galaxy A53 5G³ helps protect your data with multilayered Knox Security. Also, with Private Share⁷, you can set time limits and expiration dates on all shared files,
revoke access at any time and ensure the intended recipient is the only one who can open your files — and that they cannot send or screenshot your stuff.
Modern design
Life happens, but Galaxy A53 5G³ provides a premium slim design that is built to last through those unpredictable moments. The body was engineered to endure, so you can worry less around water and dust.