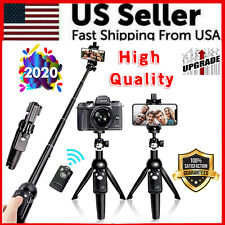 Price: 1669 USD
Selfie Stick Tripod Bluetooth, 40 Inch Professional High Quality All-In-One Trip




Selfie Stick Tripod Bluetooth, 40 Inch Professional High Quality All-In-One Trip
Lightweight and Portable – Extendable & Foldable selfie stick tripod with extendable length from 8.07" to 40", lightweight aluminum alloy design, only 7oz weight, pocket size and portable design allows you to take it anywhere.
Upgraded All-in-One Compact Design – Upgraded 360° Rotation Photography makes you rotate and select horizontal or vertical camera mode to obtain the best angle. Just simply twist the cradle head or phone holder to take photos. Moreover, the 3-in-1 selfie stick with tripod can make video call or live broadcasting.
Fast-to-Connect Detachable Bluetooth Wireless Remote – Never need to grasp the selfie stick when taking group photos. Wireless remote control is featured by fast connection speed, low cost, long service life and 10m/33ft control range (Note: Just for high-quality 60mAh battery of mobile phones and Bluetooth cameras). Charge the Bluetooth remote control via micro USB. after 45-60 minutes fully charging.
Widely Compatible – Our selfie stick is widely suitable for most Apple and Android smartphones as well as action cameras such as GoPro.
Specifications:
Color:Black
Material: ABS / Light Weight Aluminum
Application: Mobile Phone / Camera / For GoPro
Applicable Phone Size: 3.5″ – 6.5″
                                                                                                                             
 

Easy Installation

1. Connect your Camera/Mobile Phone via the Adjustable Phone Mount or bracket.




   




2. Connect the Bluetooth Remote to your Device




   




3. Enjoy the Lightweight Compact Design including the 360 degree rotation.




   
7 Sections of Size
You can extend your selfie stick with 7 different section of lengths ranging from 8″ to 40″.
360 Degree Design
Using the included rotation ball head, you can flip or turn your phone 360 degrees to any angle you want to film.
Adapters and Mount Included
This item comes with your favorite camera adapter as well as an adjustable mobile phone mount to fit mostly any device.
Ease
Due to the compact design, you are able to travel easily with this item. At its shortest position, it can easily fit into any backpack pocket or shorts/pants pocket.
Package includes:
1 x Selfie Stick Tripod Bluetooth, 40 Inch Professional High Quality All-In-One Trip
1 x Phone Tripod Mount Holder
1 x Bluetooth Remote Controller
Shipping Information:
Your item Ships Same Day to 1 Business Day from our California Location.