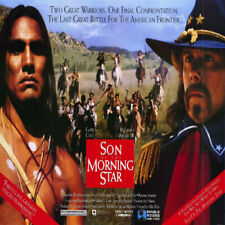 Price: 1299 USD
Son of the Morning Star, 1991 Original Mini-Series, DVD Video




Son of the
Morning Star
1991
mini-series
DVD
Original Uncut mini-series produced in 1991
 ***Brand New*** 2- Disc DVD Set, Approximate run time:
about 3 hours and 07 minutes
 Region 1; NTSC Format (Playable in the United States,
Canada, Bermuda, Caribbean, and other U.S. territories).
 English Audio
 Includes Animated Scene Selection on Each Disc
 Sealed and shipped in original packaging: All original
artwork included
STARS
Gary Cole as
George Armstrong Custer
Rosanna
Arquette as Libby Custer
Stanley
Anderson as Ulysses S. Grant
Edward
Blatchford as Lt. Cooke (as Ed Blatchford)
George
Dickerson as Gen. Sherman
Rodney A.
Grant as Crazy Horse
Tom O'Brien as
Charlie Reynolds
Terry
O'Quinn as Gen. Alfred Terry
Nick Ramus as Red Cloud
Tim Ransom as
Tom Custer
Robert
Schenkkan as Capt. Weir
David
Strathairn as Capt. William F. Benteen
Storyline
The story of George Custer, Crazy Horse, and the
events prior to the battle of the Little Bighorn, told from the different
perspectives of two women.
Synopsis
Gary Cole as George Armstrong Custer, leader of the
7th Cavalry of the Great Plains in the early 1870s. Custer's efforts to
maintain peace with the surrounding Native Americans are doomed to failure due
to his own arrogance and miscalculations. The Indians reluctantly marshal
themselves for war when the white man's lust for gold results in broken
treaties and ravaged lands. Part Two culminates in a spectacular (and fairly
accurate) recreation of the Battle of the Little Big Horn, pitting Custer
against another headstrong tactician, Chief Crazy Horse (Rodney Grant).
SHIPPING:
Before you place your order, please
make sure your shipping address on your eBay account is correct (we are not
able to change your shipping address once your order is placed). If you need to
change your shipping address after checking out, please request to have your
order cancelled so that you can re-purchase and correct your shipping address.
Thank you
All items are shipped via USPS Media
Mail or USPS Economy Mail (Free of Charge). You may upgrade to USPS First
Class, USPS Priority Mail or USPS Overnight Priority at the time of checkout
for an additional fee. All items are shipped with a tracking number, and maybe
tracked via eBay, PayPal or the USPS website
All items will be mailed within 1 (one)
business day of placing your order (Monday through Friday, except for Federal
Holidays).
PAYMENTS:
Buy It Now requires immediate payment.
All other payments must be received within 3 Days from the date of purchase, or
your order will be cancelled.
REFUNDS AND RETURNS:
Please contact us via eBay Message if
you have NOT received item or if you have any problems or issues with your
item(s).
FEEDBACK:
We greatly appreciate your POSITIVE
feedback. Please do NOT leave negative feedback/open a dispute/rate us with low
DSR without asking us for help. We are here to help our customers on an
individual basis, and we treat our customers with respect and courtesy. Our
goal is to provide the best Customer Service & Support and we try our best
to resolve any problem that may occur.
CONTACT US:
If you have any questions, please feel
free to email us 24 Hours a Day, 7 Days a Week. We will reply to you ASAP
(except on Sundays & Holidays). If you do not receive a reply within 48
Hours, please check the spam folder in your mailbox.