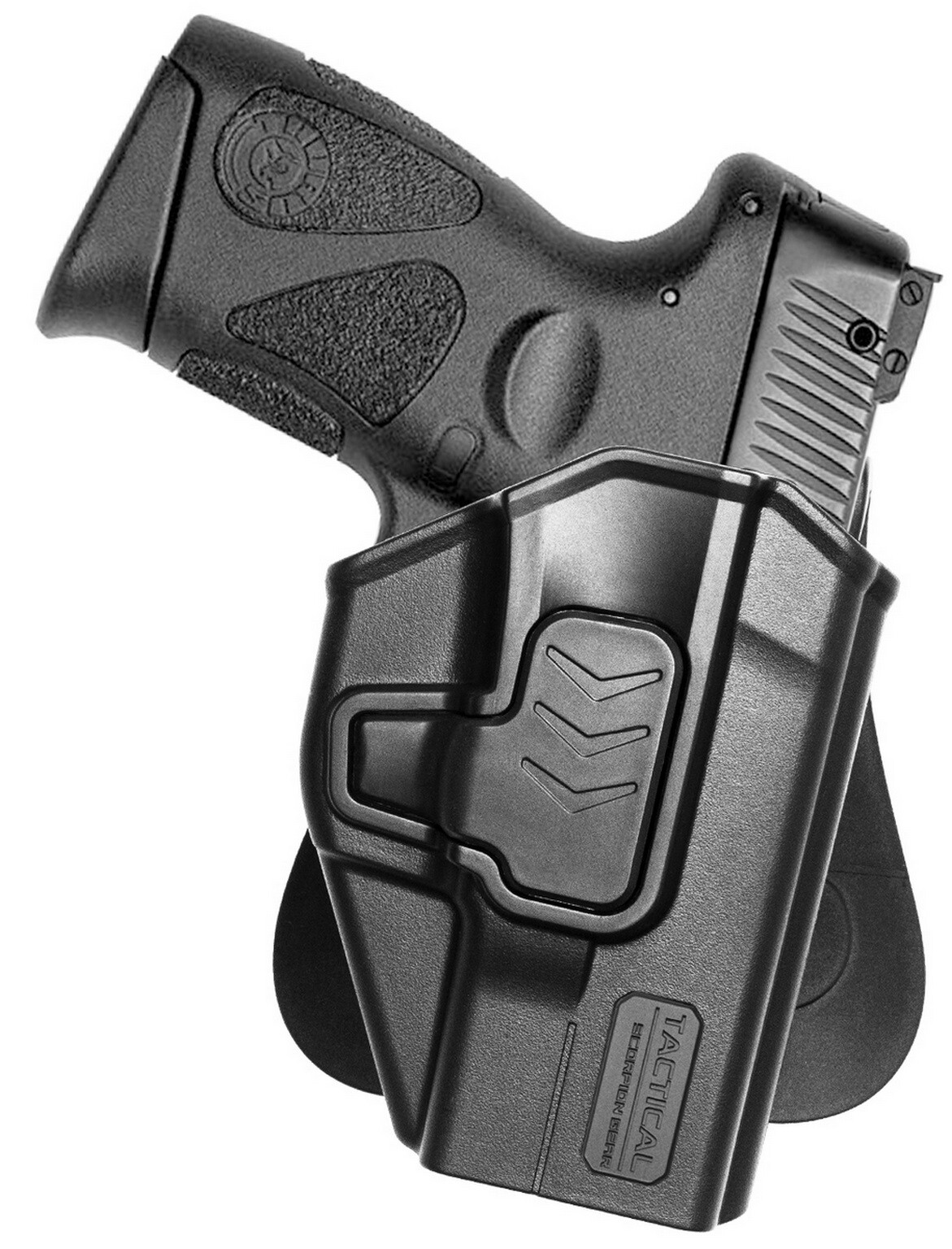 Price: 1995 USD
Tactical Scorpion Gear Level II Polymer Paddle Holster fits: Glock 43x, 43
Tactical Scorpion Gear for Glock G43X, 43 Modular Level II Retention Paddle Holster
Your weapon is heavy enough so why place it in an inferior heavy holster when you can utilize our lightweight modular polymer holster system. You can switch from concealed close to body inside the pants mount utilizing the paddle clip with soft silicone or quickly change to belt hung using the belt adapter or mount to the drop leg platform for a full tactical mode. The MOLLE adapter makes it the perfect companion for our MOLLE armor plate carriers.
Superior Material : Produced with self lubricating Made in USA polymers. The combat-proven Holster by Tactical Scorpion Gear is a step forward in holster design and technology.

Warranty: All holsters and magazine pouches are protected by a limited Lifetime warranty

Quick Release Button: Level II Quick-draw holster with safety locking mechanism. The release is made using your normal drawing motion, with the trigger finger beside the holster body. The perfect retention holster for concealed carry. The weapon can't accidentally leave the holster.
360′ Rotating : Fully adjustable and rotates 360 degrees for every application.
Silicone Paddle: Comfortable soft silicone on paddle secures holds in place. ( included with holster)
The combat-proven Holster is a step forward in holster design and technology. State of the art design, injection molding and space age high-density plastics are combined to create a holster which cannot be duplicated in leather or any other material.
Designed for military & police personnel. Great for civilians & off duty officers. The ultimate for safe open carry
Modular: Fully modular system with the ability to quickly convert from Paddle platform , Belt hung, drop leg platform mount and the Molle attachment. Attachments sold separately
Part number: TSG-G43X
Weapon compatibility: Glock 43X, 43

Color: Black
Material: Durable law enforcement grade polymer
Package: 1 paddle holster, 1 allen key
Handing : Right hand
Purchase Options
Option 1 : Holster with Inside the pants paddle Platform
Option 2: Holster with Paddle Platform and Belt Loop Adapter
Option 3: Holster with Paddle Platform, Belt Loop Adapter and Drop Leg Platform
Option 4: Holster With Paddle Platform, Belt Loop Adpater, Drop Leg Platform and MOLLE Adapter

Other options: Modular Weapon Specific Magazine Pouches ( Sold Separately)