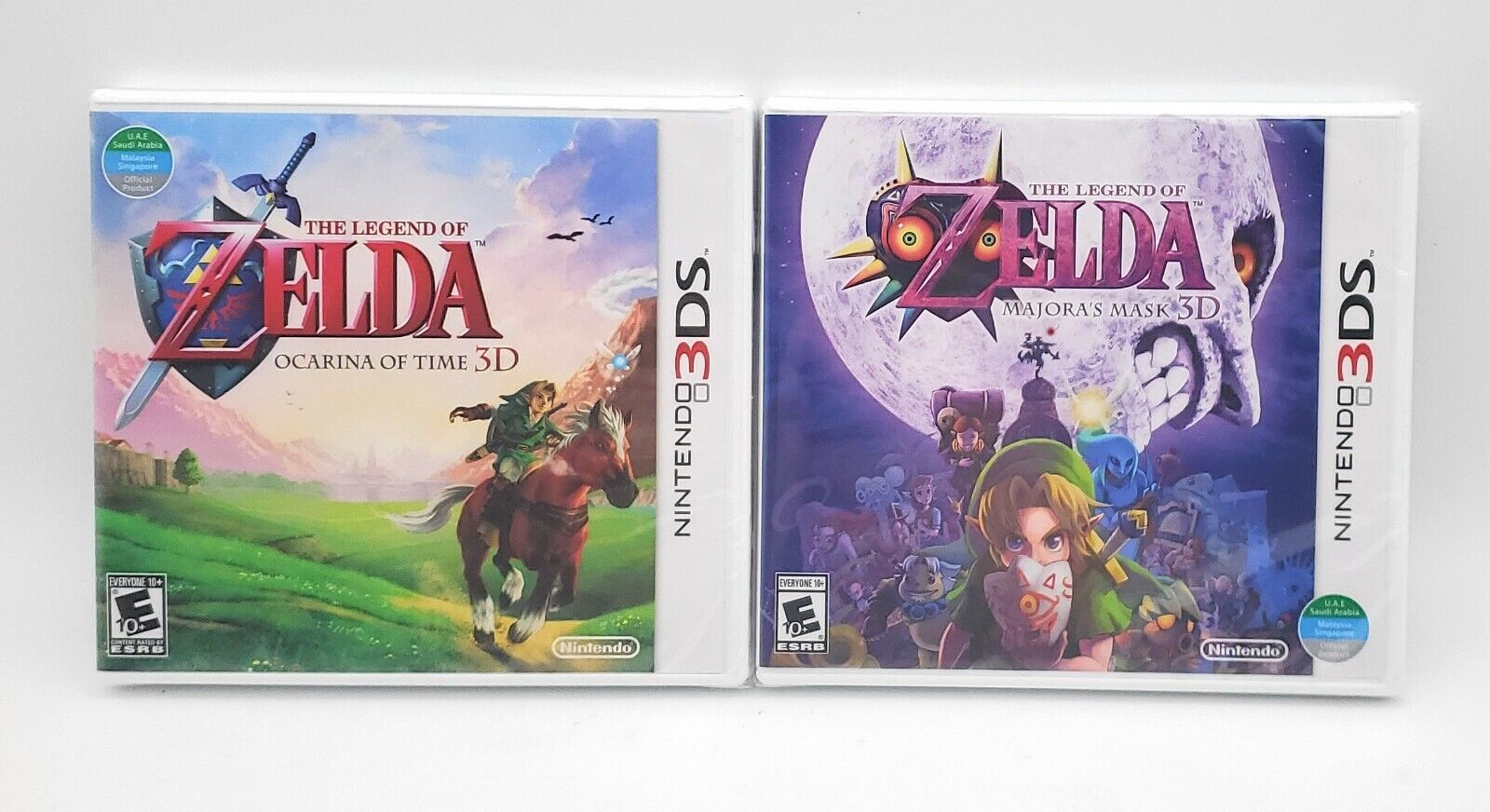 Price: 5797 USD
The Legend of Zelda Ocarina of Time 3D + Majora's Mask 3D – Nintendo 3DS Sealed
AUTHENTIC EDITION !!
BRAND NEW
FACTORY SEALED!!
EACH PURCHASE IS FOR 2 GAMES
These item never been worn. They are 100% authentic!
 Free Shipping!!
We work in search of customer satisfaction!!
Product Description
Ocarina of Time 3D

 – Nintendo 3DS   UPC

 0045496741556
The Legend of Zelda: Ocarina of Time 3D takes the best-reviewed game of all time for a brand-new experience. Now in 3D all of the graphic textures and colors have been vastly improved, taking advantage of the considerable graphic power of the Nintendo 3DS system. This game tells the epic story of Hyrule and Link™, Zelda™, and Ganondorf in remarkable depth and gives context to the many tales of their struggles. As such, this title represents a perfect entry point for players new to the Zelda franchise. Phenomenally Improved Graphics Beyond even the incredible 3D effect, every graphic texture and character model has been lovingly built from the ground up to create the most dynamic and vivid vision of Zelda's kingdom yet. This is Hyrule as you've always imagined it. Playing the Ocarina Link needs to play the eponymous Ocarina of Time many, many times over the course of the game. This involves a specific series of button presses to play one of the twelve songs in the game. In the original title, you would need to assign the ocarina to an item slot, then likely review the button prompts to your song, then play them from memory. The Nintendo 3DS version has the ocarina constantly available on the Touch Screen, and playing with the button prompts for each song right in front of you. Enhanced Game play While the greatest care has been taken to preserve the classic game play and story, a number of new features make this the definitive version of this extraordinary game.


   Majora's Mask 3D3DS – Nintendo 3DS  UPC 045496742805
The World Will End In Three Days. Can You Stop The Apocalypse In Time?
A Twisted Skull Kid Will Destroy The World In Three Days By Sending The Moon Crashing Down. To Stop Him, Link Must Collect Powerful Masks And Relive Those Final Days In Many Unexpected Ways.
Wear Special Masks To Transform
Help And Befriend Termina's Intriguing Residents
Swim With Ease As A Graceful Zora
Roll Over Enemies As A Mighty Goron
Track Progress In The Bombers' Notebook
Nintendo Authentic Word Edition Games 
They Work In All Region Using Ntsc ( Usa, Asia , Saudi Arabia, South And Central America )
Shipping
We will have your packed carefully and shipped out within SAME business day.(excludes weekends & holidays) from when your payment clears.
Order before 1:00pm PT Mon-Fri and 11am PT Saturday for same day shipment!  Some Local Free and Fast Delivery Available in the PA  Area!   Arrives faster than the Ebay delivery estimate!
We are not responsible for undeliverable addresses.
Unfortunately once an order is placed, we must ship to that address. So please confirm you have selected the correct address before placing your order.  
We ship our items very quickly, so we are typically not able to cancel orders. Please be sure this is the item you would like before ordering.
Return 
In the event you receive a faulty item or an incorrect title, we will gladly either replace the item or issue a full refund including the cost of Shipping and Handling for you to return the item to us.
All items must be returned in the same condition as they were received. 
 International Customers
International customers are responsible making sure NTSC video games and products are compatible with their system before purchase.