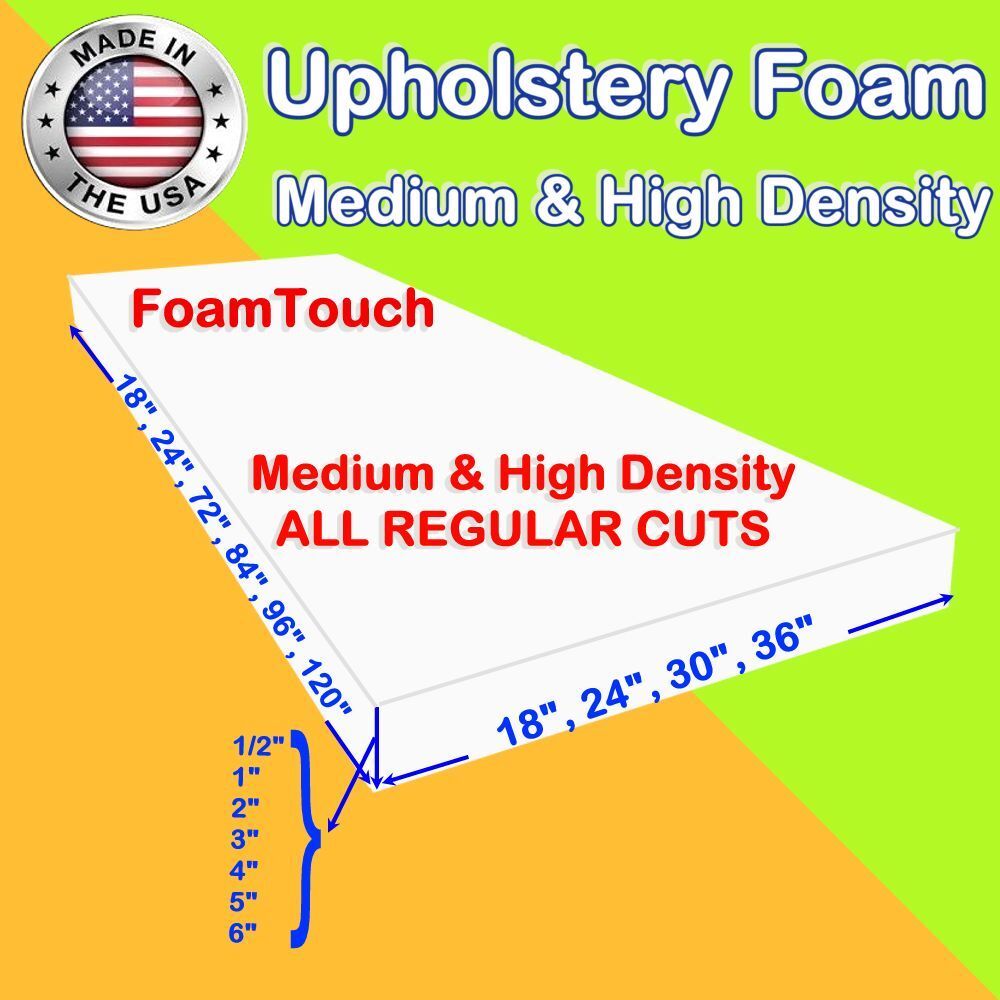 Price: 5299 USD
Upholstery Foam Seat Cushion Replacement Sheets variety Regular Cut by FoamTouch




All
orders received by 3PM PST will ship the same day.
 Product info:
FoamTouch®
 Made in USA
Density:
1.8, 44lb Compression & 35lb Compression
100%
Recovery Rate

Size: 

(0.5″- 6″) Thick X
(18″, 24″, 30″, 36″) Wide X (18″, 24″,
72″, 84″,96″, 120″) Long- Firm  & Semi
Firm

Size:  1″x18″x18″,
2″x18″x18″, 3″x18″x18″,
4″x18″x18″, 5″x18″x18″,
6″x18″x18″,  1″x24″x24″,
2″x24″x24″, 3″x24″x24″, 4″x24″x24″,
5″x24″x24″, 6″x24″x24″, 
1/2″x24″x72″, 1″x24″x72″,
2″x24″x72″, 3″x24″x72″,
4″x24″x72″, 5″x24″x72″, 
6″x24″x72″, 1″x24″x84″,
2″x24″x84″, 3″x24″x84″,
4″x24″x84″, 5″x24″x84″, 
6″x24″x84″, 1″x24″x96″,
2″x24″x96″, 3″x24″x96″,
4″x24″x96″, 5″x24″x96″, 
6″x24″x96″, 1″x24″x120″,
2″x24″x120″, 3″x24″x120″,
4″x24″x120″, 2″x18″x120″, 
1″x30″x72″, 2″x30″x72″,
3″x30″x72″, 4″x30″x72″,
5″x30″x72″, 6″x30″x72″, 
1″x30″x84″, 2″x30″x84″,
3″x30″x84″, 4″x30″x84″,
5″x30″x84″, 6″x30″x84″, 
1″x30″x96″, 2″x30″x96″, 3″x30″x96″,
4″x30″x96″, 5″x30″x96″,
6″x30″x96″,  1″x36″x72″,
2″x36″x72″, 3″x36″x72″,
4″x36″x72″, 5″x36″x72″,
6″x36″x72″

Durability:
Will Last 7 to 10 Years.
Uses:
Ideal for oval and round poker tables, furniture cushions, boat
cushions, car cushions, foam mattresses, bedding support, and all other
home and commercial upholstery applications
We
offer custom cut foams. Please message us through eBay for more details.
   *For best pricing on
Custom Cuts, use eBay message board to send us your desired sizes and your
shipping zip code.
       for Custom Cuts, please refer
to our Custom Cut Listings only (click here for all of our listings)
We
are proud of our brand "FoamTouch®".
FoamTouch® High density foam
has a compression rate of 44
LBS and Medium density foam has
a compression rate of
36 LBS. FoamTouch® features the perfect amount of
cushioning and stiffness. FoamTouch® is soft but still holds its firmness (High Firm Quality Foam & Medium Firm
Quality Foam are designed for heavy traffic and high use applications).
COMPRESSION =
FIRMNESS; Compression (not density) is what determines firmness. If you don't
want a cushion that's hard as a rock or a mattress that sinks when you sit or
sleep on it, you have to check the compression or ILD number. Compression
means the number of pounds necessary to compress a piece of foam 25% and
still bounce back to the original thickness. For example, a 4″ thick
piece of foam that requires 35 lbs. to pack it down 1″ and have it
return to its full 4″ thickness has a 35 lb. compression rating or ILD
-Indention Load Deflection.
Uses: Ideal for oval and
round poker tables, furniture cushions, boat cushions, car cushions, foam
mattresses, bedding support, and all other home and commercial upholstery
applications.
DO NOT OPEN WITH A BOX
CUTTER! USE A BALL POINT PEN OR A PENCIL. START BY MAKING A LITTLE INCISION
AND BREAK IT FROM THERE.
When unpacking, allow
at least 3 days for the foam to breathe in order to recover its original size
and form.
Payment
Use
Paypal service for an easy, safe and secured payment for your eBay
purchase. Our secure check-out system will calculate your total amount
of purchase for your Paypal payment. You can use your
Visa, MasterCard, Discover or American Express via Paypal.
Shipping
If
purchased before 3PM PST Monday-Friday, product will ship the same day
(except for custom cuts). Otherwise, product will be shipped the next
business day. The shipping method for this listing is calculated based on
destination zip code or as described in listing.
Contact
Please
use eBay's message board to contact us. This way, we can always refer
to the history of our conversation with you, which helps us serve you
better. We strive to provide you with the best service, and for that reason
we do our absolute best to answer any question in 24 hours.
Our
office hours are Monday-Friday 9AM-5PM Pacific Standard Time. All
emails received after 5PM, will be answered the next business day. We
are closed on all holidays and apologize for any inconvenience.
Policies
Return Policy:
For
standard cut foam, item may be returned within 30 days of receiving the
item. The item should have no damages or modifications done to it. All
items must be in the original package and unused. After receiving the
item, we will refund the customer at the item's price within 3 business
days. Return shipping will be paid by the buyer unless wrong or defective
item has been received by the buyer. In that case, we will pay for the
return shipment as well.
For
custom cut foams, we are unable to accept any returns, exchanges or make
any refund.
PLEASE
CONTACT US FOR RETURN INSTRUCTION BEFORE RETURNING THE ITEM.
Feedback
Your 100%
satisfaction is our first priority.  We appreciate your positive
feedback. If an unusual thing happens in transaction, please contact
us before leaving a feedback. We will try our best to resolve the
issue. You feedback and rating are extremely important to us. We sincerely
appreciate your positive feedback comment.
Custom Cut
We Custom
Cut to any size you wish.
We
custom cut High, Medium and Regular density foams.
Shipping
cost depends on the size, weight and destination zip code.  We ship
from Los Angeles, CA.
For
custom cuts, please visit our store. If you do not find
the size you wish listed, please contact us with your desired sizes
(length, width, thickness), the quantity of each item and your zip
code and we will quote you a total figure including all shipping and
handling.
Looking
for high quality chair cushion or couch cushion replacement foam? Schickbazaar
is your one-stop-shop to obtain all upholstery cushion replacement foams.
We
offer high density (firm) and medium density (semi firm) FoamTouch® foam. FoamTouch® is
made in the USA and has the best quality. We custom cut Rectangle,
Triangle, Circle, "T" shape, "L" shape and Trapezoid.
Chair
cushion replacement, couch cushion replacement, furniture foam replacement,
day bed foam, mattress foam, pet bed foam, children playground wall cushion
foam, window seats foam, bench foam, RV bedding and seating foam…  any project you may have, we can provide
you with your desired size and shape of foam.
FoamTouch®
is a registered Trademark of Koseb International inc. and usage of it
without a written consent of Koseb International inc. is unlawful.