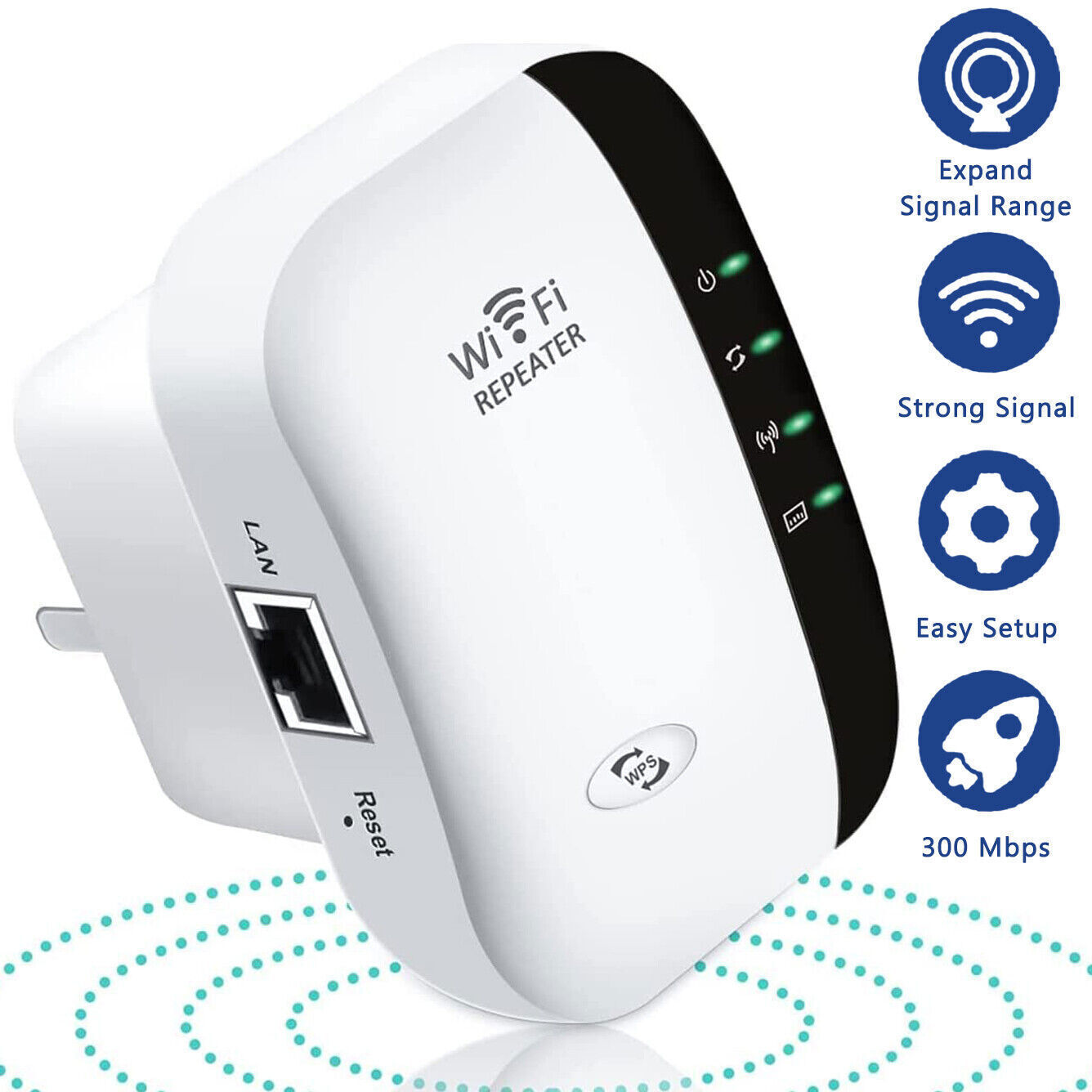 Price: 1198 USD
WiFi Range Extender Internet Booster Wireless Signal Repeater 300Mbps 2022 NEW




7MAGIC WiFi Extender Signal Booster Up to 2640sq.ft and 25 Devices
SAY GOODBYE TO WIFI DEAD ZONES!
This Wifi extender boosts your existing Wi-Fi coverage and extends the wireless network to hard-to-reach areas. Clear WiFi dead zones simply! Farewell signal weak or broken, improve network strength, you just need a wifi booster!
Please note: the WiFi repeater only extends Wi-Fi coverage and does not speed up the original router or maintain the same speed as the original router.
 


 

 

Two working modes to choose

Repeater Mode the repeater mode is used to extend the WiFi coverage of existing wireless networks.

AP Mode converts a wired network to a wireless network without the need to set up.

 

 

Easy to install and use

Plug and Play.

Simply press the one-key WPS button on the existing router to easily extend the wireless coverage.

 

 

Wide Compatibility

This WiFi extender is compatible with 802.11n/g/b, and work with any wireless network, router and WiFi-enabled devices (Smartphones, Laptops, PC, TV, TV Box, etc.)
Specifications:

The WiFi Repeater is a Combined Wired/Wireless Network Connection Device

Latest software wizard for easy setup

Access to Wireless standard 802.11n with Wireless Transmission Speeds of Up to 300Mbps

Easy to Extends the Range of your Wifi Network, No Worry about the Obstcal Weaken the Wifi Signal

Also Works Well with Other 11b/g and 11n Protocol Wireless Products

Improves Wireless Coverage in all WLAN Networks

Provides up to 300Mbps Transmission Rates

Downward complies with 802.11g (54Mbit/s) and 802.11b standard (11Mbit/s)

Operating Temperature : 0ºC~40ºC

Storage Temperature : 10~70ºC

Relative Humidity (Operational) :10%~90% , noncondensing

Relative Humidity (Storage) :10%~90% , noncondensing

Support 2.4 GHz WLAN networks

Support Wireless Repeater Mode and Standard AP Mod

Wireless access point or network extender to bring wifi to your home, study or office

Antennas integrated

Maximum WLAN security with WPA2, WPA and WEP (128/64)

Use it to Extend the Range of your Wifi Network Over a Wider Area or Eliminate dead-spots due to low signal power

No Trailing Wires around the place

Distance: Outdoors 300m , Indoor 100m (According to the Actual Environment Change)