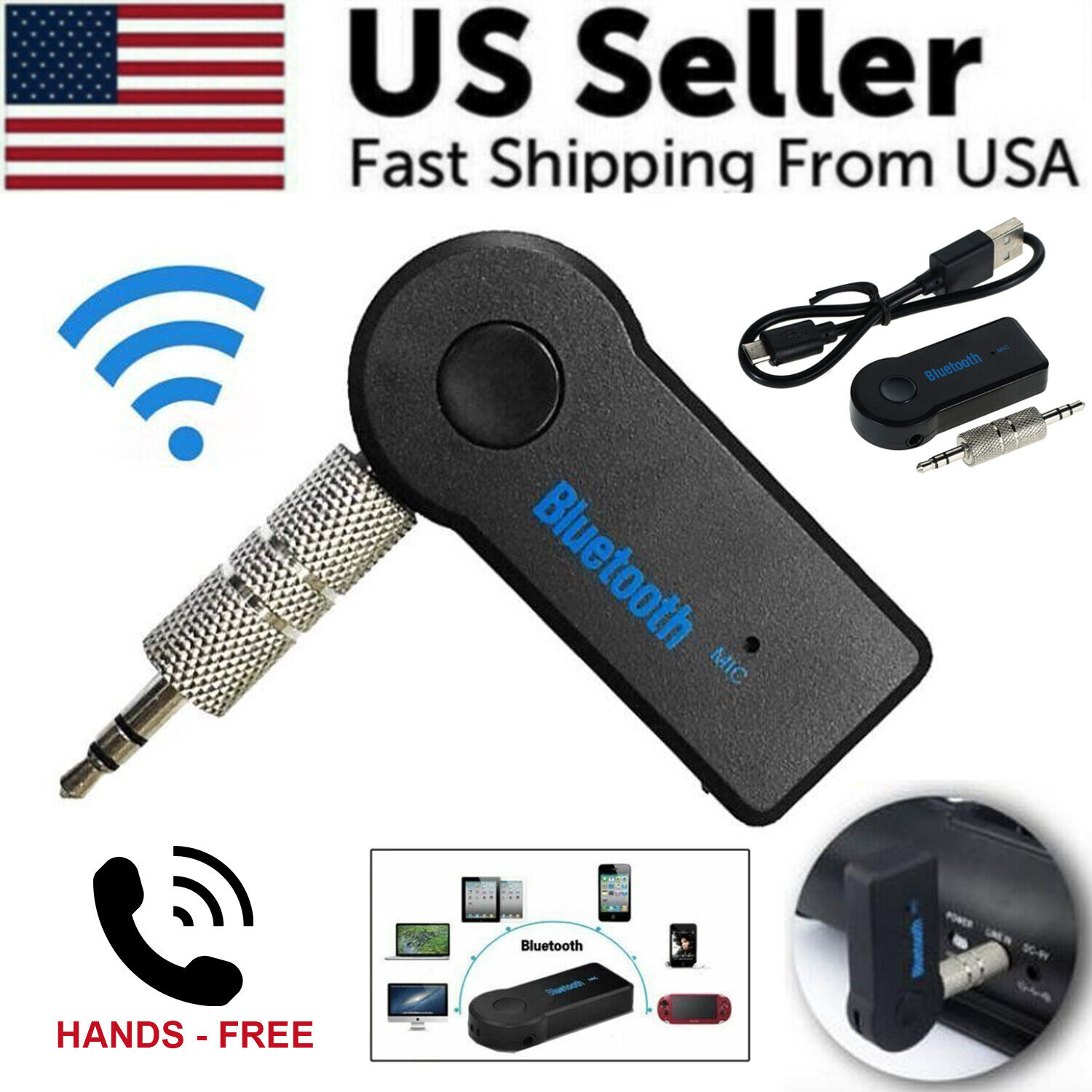 Price: 489 USD
Wireless Bluetooth 3.5mm AUX Audio Stereo Music Home Car Receiver Adapter New
High-Compatibility : Bluetooth V3.0+EDR technology.Compatible perfectly with your Bluetooth-enabled phone,laptop,tablet,MP3 player and many more, so that you can enjoy your stereo music through your car AUX audio system,home theater AV HiFi surrounding system.

 Easy Connection : Easy to operate.Connect your non-Bluetooth speaker/car audio system with this device through 3.5mm male to male audio connector/cable, and pair your bluetooth phone/Tablet with this device. Then,just play your phone music and enjoy your speaker stereo sound.

Convenience : When your phone is default to use bluetooth Microphone, you can make hands-free calls through built-in MIC if someone calls you.Press once to answer and press again to hung up.
 Auto-Disconnection : Charged by built-in rechargeable li-ion battery via mini USB port, and can be shut down automatically if it disconnects with the bluetooth device for 5 mins.Work continuously for more than 8 hours, and longer time in standby mode.

Suit for Wired Headphones : Plug your normal headphones into 3.5mm aux jack and then pair this receiver with your phone via bluetooth, you could use your headphones to hear sound – Suitable for phones without 3.5mm audio jack.
Instructions (How To Use) :
If this is the first time you use this device, please pair the device first
To enter pairing mode, press and hold the ON/ OFF button for 5 seconds until both red and blue LEDs flash.

Search for the music receiver on your mobile phone or compatible transmitter. Touch and hold one button to power on and it will automatically search for a compatible transmitter. No any codes to enter if connect with Apple or Android device. LED lights beneath the button indicate the device's connection and charging status.

The devices should now recognize each other and pair. The LED on the music receiver will slowly flash blue after successfully pairing.

To complete pairing some devices require a pass key or code, please enter "0000".

Once successfully paired, the devices can be powered off. To reconnect simply power them both on, no need to pair again.
Note : If you wish to use the P music receiver with another transmitter, you must restart the pairing process with the new device from step one. After pairing the new transmitter, the old transmitter will no longer be paired to the music receiver, you can have only one device connected at a time.
If you have already matched before :
press and hold the ON/OFF button for 3 seconds until the blue LED light begins flashing.

To turn off, press and hold the ON/ OFF button for 5 seconds. The red LED will light up, and then turn off.
Note : Read the user guide of your transmitter or mobile phone to find out how to turn ON/ OFF Bluetooth wireless technology.
Package Include :
1x Bluetooth Receiver

1x Micro USB Power Cable

1x 3.5mm Stereo Inlet Socket

1x User Manual